How to get disulfiram online
Disulfiram is an FDA-approved medication for abstaining from alcohol. Disulfiram inhibits your ability to metabolize alcohol and causes a severe physical reaction to drinking alcohol. At Monument, you can discuss if this behavior-reinforcing drug is safe and appropriate for you with a licensed physician. Pending a prescription, disulfiram pills are delivered discreetly to your door.
Safe prescribing
Confidential care
Unlimited access to your provider
Seamless delivery & refills
Talk to a physician about disulfiram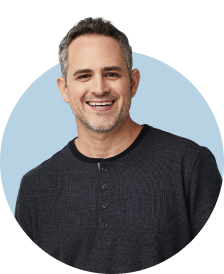 Read the Reviews
What our members are saying
Steps to treatment
How do I get disulfiram online?
Join Monument and add on medication-assisted treatment

After becoming a Monument member for just $14.99/month, you'll be able to add on insurance-covered therapy and medication-assisted treatment (MAT). If you choose to add on MAT, you will be matched with a licensed physician.

Discuss medication options with your physician

You and your physician will discuss your medical history and review your medication options. If you and your physician agree disulfiram is a safe and appropriate drug for you, you'll get your disulfiram pills delivered to your home or preferred pharmacy.

Get ongoing care and guidance from your physician

Your physician will be available via chat and for virtual follow-up appointments throughout your journey. They can answer any questions you have about medication and the alcohol recovery timeline.
Get started
How does Monument's online alcohol treatment work?
Monument's holistic treatment approach utilizes the leading evidence-based practices in alcohol use disorder treatment. Monument membership unlocks access to virtual peer support, digital accountability tools, medication-assisted treatment, and specialized therapy. Care is personalized to your specific needs and goals and responsive to your progress.
Join Monument
Frequently asked questions about disulfiram
How does disulfiram work?
Disulfiram changes the way your body metabolizes and reacts to alcohol. Without the presence of disulfiram, your body breaks down alcohol into ethanol after consumption. Enzymes then break down the ethanol into acetic acid. Disulfiram inhibits these enzymes so that ethanol doesn't get broken down if alcohol is consumed. This causes ethanol to accumulate, which causes unpleasant and potentially dangerous symptoms called the disulfiram-ethanol reaction. People who take disulfiram are aware of this reaction, which provides behavioral reinforcement to abstain from alcohol.
How do you take it?
The average disulfiram dose is 250mg once a day, taken in the morning or evening. Disulfiram starts working almost immediately after taking one dose.
There's no standard duration that physicians prescribe disulfiram because every individual is different. To give a sense of an average timeline, recovery experts recommend engaging with a treatment plan for at least one year. There are no risks to taking disulfiram long-term. If a medication is working for you, it's reasonable to stick with it. If you stop taking disulfiram, you should be aware that the disulfiram-ethanol reaction can still take place for up to 2 weeks.
What is drinking on disulfiram like?
No amount of alcohol should be consumed when taking disulfiram. People taking disulfiram should also be careful to avoid alcoholic beverages and alcohol-containing products, such as mouthwashes, cough mixtures, vinegars, and any other products that may contain alcohol. You shouldn't test the effectiveness of the medication by drinking.
If alcohol is consumed while taking disulfiram, the body can have a severe response. The disulfiram-ethanol reaction includes unpleasant symptoms such as dizziness, headache, vomiting, sweating, chest discomfort, shortness of breath, fainting, confusion, nausea, blurred vision, abdominal pain, seizures, low blood pressure, and more. In some cases, symptoms can become life-threatening.
What are the side effects of disulfiram?
Aside from the potential symptoms of the disulfiram-ethanol reaction, there are very few side effects associated with taking disulfiram itself. Headaches and drowsiness are the most common. Disulfiram isn't addictive and can be discontinued without withdrawal symptoms. If you do experience any symptoms, please contact your healthcare provider, who can help address them.
Are there any other precautions or drug interactions I should be aware of?
People taking disulfiram should avoid drinking alcohol, and should also be mindful of not consuming alcohol in everyday products and food. After getting a disulfiram prescription you should wait 24 hours to ensure you don't have alcohol in your system before beginning to take disulfiram pills. You should disclose the full extent of your health history and medications with your physician. You might not be a good candidate for disulfiram if you have a history of heart disease, diabetes, epilepsy, liver disease, or other health conditions. See important safety information below to learn more.
Naltrexone vs. disulfiram – which one is right for me?
There are other FDA-approved medications besides disulfiram to help people stop drinking, such as naltrexone. Unlike disulfiram, naltrexone helps decrease alcohol cravings. Naltrexone works by blocking the pleasurable effects of alcohol, which can weaken the positive associations with alcohol in the brain. This chemical reaction can help reduce cravings, and thus, heavy drinking. Naltrexone can be used to support both moderation or sobriety treatment goals, whereas disulfiram is only for those looking to remain abstinent. Learning about naltrexone vs disulfiram can help illuminate which medication might be right for you.
Is disulfiram covered by insurance?
Disulfiram can be covered in part or in full by insurance. Disulfiram pills typically cost $40 per month without insurance. With insurance coverage, medication is a fraction of the cost.
Can I get disulfiram prescribed online?
Yes, it's possible to get a disulfiram prescription entirely online. After joining Monument and enrolling in medication-assisted treatment you'll be matched with a physician who can help determine if disulfiram is safe and appropriate for you. Pending a prescription, our pharmacy partner will then ensure your disulfiram pills are sent directly to your door or your local pharmacy of choice.
Have questions about prescription medication to stop drinking?
Get in touch with our support team to learn more about your options
Connect
Important safety information
Disulfiram
The most common side effects of Disulfiram may include drowsiness, tiredness, headache, acne, and metallic-like taste in the mouth. Call your doctor if you have signs of serious side effects such as decreased sexual ability, vision changes, numbness of arms or legs, muscle weakness, mood changes, seizures, or confusion. Do not take Disulfiram if you are allergic to any of the ingredients. If you begin to have signs of an allergic reaction, then seek immediate medical attention. Avoid consumption of alcohol while taking this medication, as it may lead to adverse side effects. Talk to your doctor about the history of your medical conditions including if you have or have had diabetes, underactive thyroid, brain disorders, liver or kidney disease, personal or family history of regular use/abuse of drugs. Certain drug interactions may lead to serious adverse side effects. Let your doctor know about any other medications you are taking. This is not a complete list of potential adverse events associated with Disulfiram. Please see Full Prescribing Information for a complete list.*Monument Inc. provides administrative and business support services to independent medical and clinical practices and providers. Monument Inc. does not provide medical or clinical services and does not own medical or other clinical practices. All medical services are provided by Live Life Now Health Group, PA d/b/a Live Life Now Medical Group. All counseling and therapy services are provided by independent licensed practitioners including licensed clinical social workers (LCSW) and licensed mental health counselors (LMHC). Individuals should contact their physician or therapist with any questions about their treatment.
Naltrexone
Naltrexone has the capacity to cause hepatocellular injury (liver injury) when given in excessive doses. Naltrexone is contraindicated in acute hepatitis or liver failure, and its use in patients with active liver disease must be carefully considered in light of its hepatotoxic effects. In the treatment of alcohol dependence, adverse reactions include difficulty sleeping, anxiety, nervousness, abdominal pain/cramps, nausea and/or vomiting, low energy, joint and muscle pain, headache, dizziness and somnolence. This is not a complete list of potential adverse events associated with naltrexone hydrochloride. Please see Full Prescribing Information for a complete list.
Sources:
Riper H, Andersson G, Hunter SB, de Wit J, Berking M, Cuijpers P. Treatment of comorbid alcohol use disorders and depression with cognitive-behavioural therapy and motivational interviewing: a meta-analysis. Addiction. 2014;109(3):394-406. doi:10.1111/ add.12441
Kelly JF. Is Alcoholics Anonymous religious, spiritual, neither? Findings from 25 years of mechanisms of behavior change research. Addiction. 2017 Jun;112(6):929-936. doi: 10.1111/ add.13590. Epub 2016 Oct 8. PMID: 27718303; PMCID: PMC5385165.
https://store.samhsa.gov/sites/default/files/d7/priv/sma10-4543.pdf
https://www.nami.org/About-Mental-Illness/Treatments/Mental-Health-Medications/Types-of-Medication/Disulfiram-(Antabuse)