Disclaimer: Our articles and resources do not constitute health care services. If you're interested in medication to stop drinking, please consult your healthcare provider or enroll in a Monument treatment plan to discuss what tools are best for you. This article is intended to help inform conversations with your provider.

As a physician on the Monument platform, my patients often remark that they wish they had known about medication to stop drinking sooner. Alcohol use disorder is a medical condition, and it's important that evidence-based alcohol treatment options, like medication, are well-known so that more people get the care that they deserve. There are two medications that physicians on the Monument platform prescribe when deemed safe and appropriate: naltrexone and disulfiram. Disulfiram is also commonly known by its brand name, Antabuse. There are several factors taken into account in order to determine which medication, if any, is appropriate for each individual. 
The best way to understand what medication is right for you is to discuss your sobriety or moderation goals with a physician. Monument's online alcohol treatment connects you to expert physicians and therapists from the comfort of your own home. Your physician will thoroughly explain naltrexone vs Antabuse (disulfiram) in the context of your needs and answer any questions. If appropriate, your physician can then prescribe you naltrexone or disulfiram online. In the meantime, here is some background information to keep in mind when considering medication to stop drinking alcohol or medication to help reduce your alcohol consumption. Before we dive in, I also want to remind you that there is no shame in using medication as a tool in your toolkit. Taking care of yourself is something to be proud of, and like many other medical conditions, medication can be very effective. While medication is not a 'silver bullet,' it can address the biological influences on our drinking habits and help empower behavioral change. 
How Do Physicians Determine Which Medication is Right For You?
When I discuss medication with patients, I first ask them how much and how often they consume alcohol. This is important because it allows me to understand where they might fall on the alcohol use disorder spectrum. Depending on a patient's history drinking alcohol and risk for alcohol withdrawal symptoms, detox may be necessary before starting any medications. I also ask about if their personal goal is to achieve sobriety or to drink in moderation, their potential drinking triggers, if they have participated in treatment programs before, and if they've ever taken naltrexone or disulfiram. All of these factors and more are taken into account when a patient and physician are assessing if medication is an appropriate option, and if so, which one.  
While they are both FDA-approved for the medication assisted treatment of alcohol use disorder, naltrexone and Antabuse (disulfiram) are completely different medications and act in very different ways. If medication is the right treatment option for you, the decision of which one is often a matter of your previous alcohol consumption patterns, medical history, and your personal goals for changing your drinking habits. Understanding how each medication works will help illuminate why. 
If you believe you might be experiencing acute alcohol withdrawal, please contact your healthcare  provider immediately and visit https://findtreatment.gov/ to find a location to get supervised detox near you. If this is a medical emergency, call 911.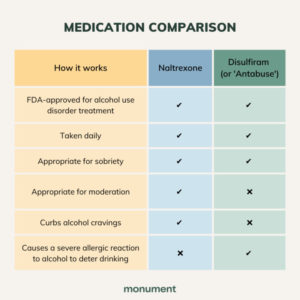 What is Naltrexone and How Does it Work?
Naltrexone is an FDA-approved medication that has been found to help support sobriety or moderation. A meta-analysis of 50 randomized clinical trials with 7793 participants concluded that oral naltrexone was effective at reducing the amount and frequency of drinking.¹ Naltrexone works by blocking the effects of dopamine, a 'feel-good' hormone released during alcohol consumption, so that the brain's association between alcohol and pleasure weakens. As a result, when drinking on naltrexone, you're less likely to want to continue drinking after having your first alcoholic drink. This can also help curb the feeling of alcohol craving over time. To better understand naltrexone benefits, you can learn more about how naltrexone works and the science behind alcohol cravings. Some people use oral naltrexone to begin their sobriety or moderation journey, while others use it as a tool to help maintain long-term sobriety. Many of my patients also begin naltrexone without knowing their end goal, and that's completely valid.
What is Antabuse and How Does it Work Differently?

While naltrexone can be used to support moderation or sobriety, disulfiram, also known as Antabuse, is exclusively for those looking to practice alcohol abstinence. But how does disulfiram work? Disulfiram inhibits alcohol from metabolizing. After taking disulfiram, the body doesn't break down alcohol the way it normally would. This leads to accumulated ethanol in the body, which can cause a negative response to alcohol consumption called the "disulfiram reaction" or the "Antabuse reaction". This response can include flushing, headache, nausea, vomiting, sweating, shortness of breath, dizziness, and other symptoms. Because of how disulfiram works, it can be dangerous to drink any amount of alcohol while taking disulfiram. Many people who are interested in taking disulfiram believe they would benefit from the strong biological reinforcement not to drink. Others may start on naltrexone, and for a variety of reasons choose to switch to disulfiram (or vise versa). The alcohol recovery timeline looks different for everyone, and all pathways are valid. 
If you consume alcohol while taking disulfiram and experience symptoms such as trouble breathing, seizures, loss of consciousness, and chest/jaw/left arm pain, you should seek medical attention immediately and call 911 in case of emergency. 
Naltrexone or Antabuse: How Do You Know Which Is Right For You?
To answer this question, I'd recommend spending some time reflecting on your current relationship with alcohol and your goals for what you want to change. Engaging in alcohol therapy or joining a therapist-moderated alcohol support group are great ways to receive support and guidance as you explore what you want out of your journey. 
Ask yourself these questions to help discover what's right for you:
Are you hoping to achieve long-term moderation, long-term sobriety, or sobriety with a return to moderate alcohol use later on? 

Are you looking for a gradual start or a strict reminder to

practice alcohol abstinence

? 
Your Monument Care Team can help provide guidance that aligns with your medical history and needs as you answer these questions. Both medications can be effective in helping people to stop drinking. You don't have to figure it all out at once, but engaging in personal reflection and discussion with your physician and therapist can help clarify which medication would be the best place to start. 
Why is it Important to Keep in Contact With Your Physician?
If and when a medication is chosen as part of a personalized medication assisted treatment plan, it's crucial to keep a close relationship with your physician. This allows your physician to determine if the medication is working the way it should, if your drinking habits are changing in accordance to your goals, and if you need a change in dosage or the medication itself. Your physician can also help guide you through any challenges you may experience throughout your journey, and address any adverse side effects. Like we often say at Monument, changing your relationship with alcohol is a non-linear journey, and your physician is there to provide support at every turn. 
It's also important to note that based on your past medical history, it's possible that a certain medication may not be safe and appropriate at this time. Your physician will provide you with this information.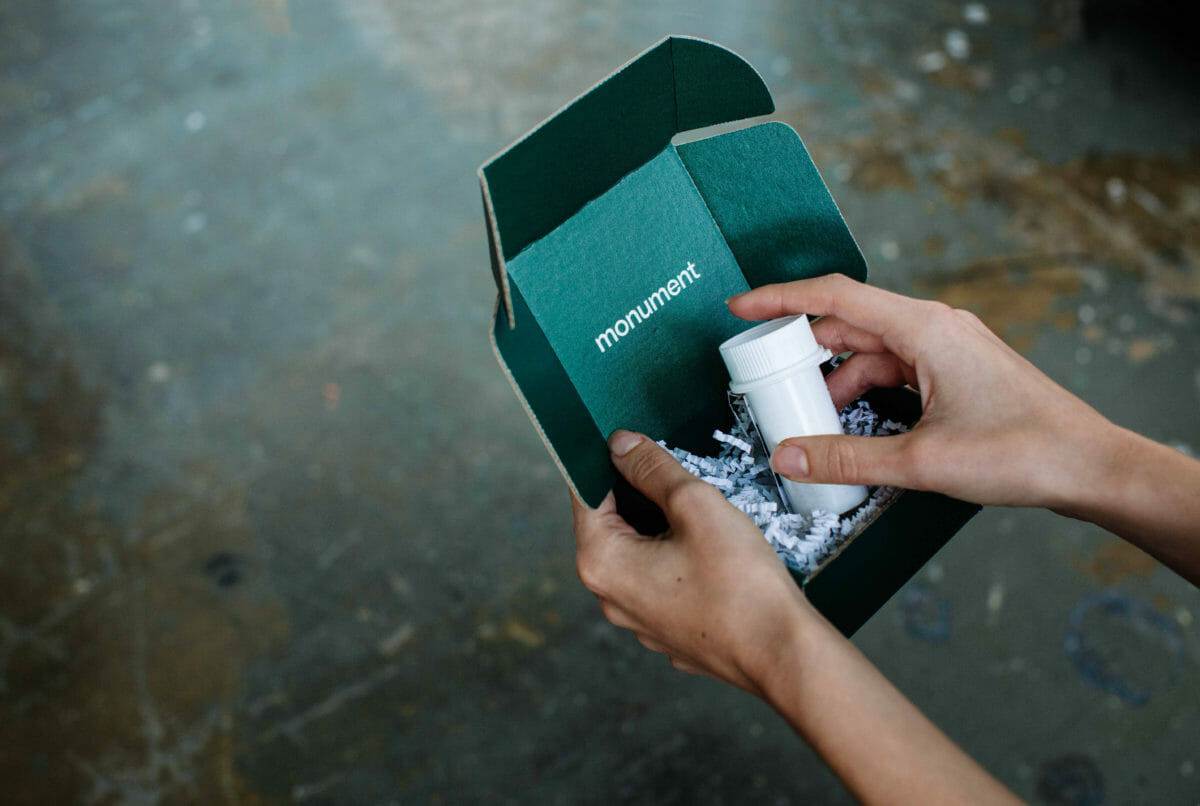 What Are the Side Effects of Antabuse and Naltrexone?
Both naltrexone and Antabuse are generally well-tolerated, with minimal side effects. When taking naltrexone, the most common side effects are nausea and headaches. For those taking Antabuse, the most common side effects are headaches and drowsiness. It's also important to note that alcohol should never be consumed while taking Antabuse. Given its chemical properties, drinking on Antabuse can cause severe or even life-threatening side effects. However, taking Antabuse while abstaining from alcohol has very minimal risk. If you experience side effects while taking naltrexone or Antabuse (also known as 'disulfiram'), it's important to speak with your physician who can help you make adjustments to minimize symptoms. 
What is the Cost of Naltrexone vs Antabuse?
Without any insurance coverage, daily naltrexone or Antabuse pills typically cost around $40 per month for 30 days. Both naltrexone and Antabuse can be a fraction of the cost with insurance coverage.
Does Monument Offer Naltrexone and/or Antabuse?
Both naltrexone and Antabuse can be prescribed at Monument. All Monument treatment plans begin with a call with a licensed physician to discuss your health history, preferences, and sobriety or moderation goals. Based on your conversation, your physician will prescribe medication if safe and appropriate for you. Pending a prescription, you can get your medication delivered directly to your door, or at your local pharmacy if preferred. Medication is 100% optional.
Medication to help stop drinking can be an incredibly impactful way to make progress towards your goals. Receiving additional support can also empower sustainable behavioral change. Alcohol therapy and therapist-moderated support groups can help you develop new coping mechanisms, establish boundaries, restructure negative thought patterns, and much more. Your Care Team also recognizes that your goals and circumstances can change and ensure your treatment plan responds to your needs and preferences. It is their hope to create a flexible, shared decision-making process to help you achieve success. This journey is your own, and you should feel empowered to engage in any and all tools that can help you get to where you want to be. 
Sources:
Cochrane Library. "Opioid antagonists for alcohol dependence, https://www.cochranelibrary.com/cdsr/doi/10.1002/14651858.CD001867.pub3/information." Accessed Aug. 3, 2021.

Disclaimer: Our articles and resources do not constitute clinical or licensed therapy or other health care services. If you need counseling or therapy services please contact a licensed provider. If this is a medical emergency, call 911.
Naltrexone has the capacity to cause hepatocellular injury (liver injury) when given in excessive doses. Naltrexone is contraindicated in acute hepatitis or liver failure, and its use for a patient with active liver disease must be carefully considered in light of its hepatotoxic effects.
In the treatment of alcohol dependence, adverse reactions include difficulty sleeping, anxiety, nervousness, abdominal pain/cramps, nausea and/or vomiting, low energy, joint and muscle pain, headache, dizziness, and somnolence. This is not a complete list of potential adverse events associated with naltrexone hydrochloride. Please see Full Prescribing Information for a complete list.
The most common side effects of Disulfiram may include drowsiness, tiredness, headache, acne, and metallic-like taste in the mouth. Call your doctor if you have signs of serious side effects such as decreased sexual ability, vision changes, numbness of arms or legs, muscle weakness, mood changes, seizures, or confusion. Do not take Disulfiram if you are allergic to any of the ingredients. If you begin to have signs of an allergic reaction, then seek immediate medical attention. Avoid consumption of alcohol while taking this medication, as it may lead to adverse side effects. Talk to your doctor about the history of your medical conditions including if you have or have had diabetes, underactive thyroid, brain disorders, liver or kidney disease, personal or family history of regular use/abuse of drugs. Certain drug interactions may lead to serious adverse side effects. Let your doctor know about any other medications you are taking. This is not a complete list of potential adverse events associated with Disulfiram. Please see Full Prescribing Information for a complete list.*Monument Inc. provides administrative and business support services to independent medical and clinical practices and providers. Monument Inc. does not provide medical or clinical services and does not own medical or other clinical practices. All medical services are provided by Live Life Now Health Group, PA d/b/a Live Life Now Medical Group. All counseling and therapy services are provided by independent licensed practitioners including licensed clinical social workers (LCSW) and licensed mental health counselors (LMHC). Individuals should contact their physician or therapist with any questions about their treatment.