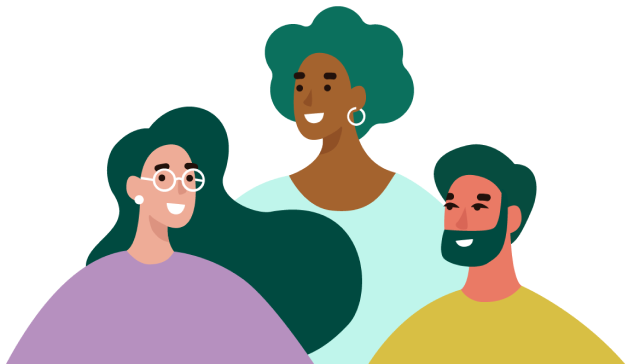 Join our online alcohol support forum
The Monument Community is a home for collective wisdom and support. Get the relief and encouragement you deserve in our free anonymous forum and alcohol support groups.
Meet my support system
Your anonymous forum to share whatever's on your mind with people who get it.
Unlock the 24/7 support of our online alcohol support forum, including channels about sobriety and moderation, and private support group chats. All are welcome, wherever you are on your journey.
Join the community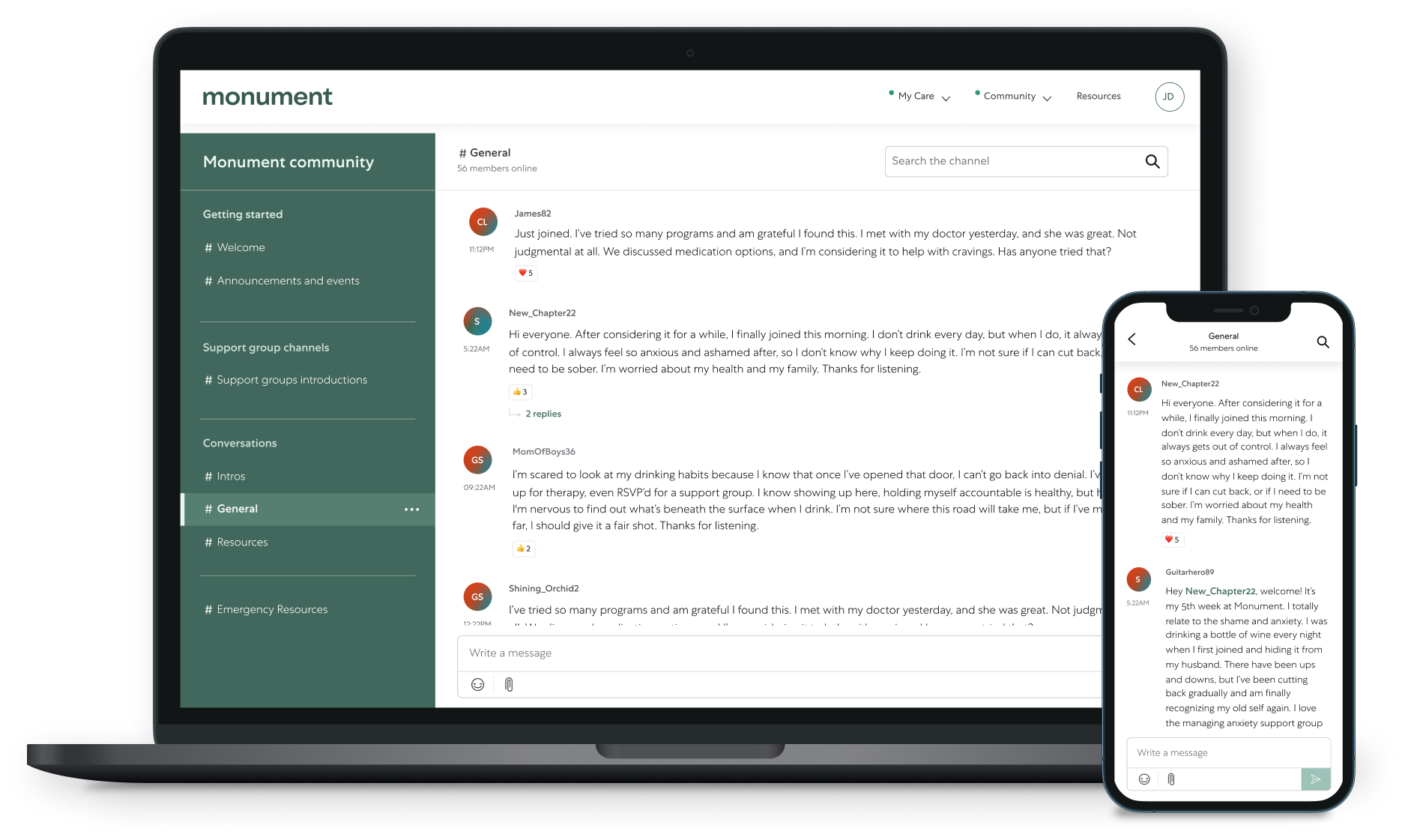 Benefits of the Monument Community
Entirely anonymous
When you join our community you're assigned a random nickname (that you can edit!). This is a safe space to ask questions, share experiences, and make connections, as anonymously as you'd like.
In the comfort of your home
Our online alcohol support forum meets you where you are. Unlike in-person rehab and traditional programs, you don't have to drive to a meeting or even introduce yourself. You can check in with your community at any time.
A judgment-free environment
We accept you exactly as you are, without judgment. Changing your relationship with alcohol is something to be proud of, and we're here to remind you of that. The alcohol forum is moderated so that everyone feels safe and welcome.
Our community guidelines
Be kind and thoughtful
The anonymous forum and online support groups are a place to lift each other up. There's no room for discriminatory, violent, threatening, hateful, judgmental, exclusionary, or insulting language. We expect community members to respond to each other with comments that they would be happy to receive themselves. We're all on the same team, and it should show.
Respect anonymity
Anonymity is crucial to make everyone feel comfortable participating in our community. We will remove any comments mentioning private people or sharing/asking for personally identifiable information.
Avoid medical advice
While we encourage you to share your experiences about clinicians and medications, if you have specific medical questions, please ask your physician or therapist in your private chat. Posts in the online alcohol support forum, from moderators or members, should not be taken as medical advice.
Avoid promotional posting
Comments that promote social media accounts, businesses, products/services, and personal blogs distract from our mission and will be removed. Monument moderators will post articles for discussion, but other than that we ask that you please refrain from posting URLs.
Frequently asked questions
Yes! The Monument Community is totally free to everyone. Seamlessly chat with other members in new channels, privately connect with folks in your online alcohol support groups, and learn about the latest resources from Monument all in one place. Sign up to check it out. Our paid treatment plans include physician and therapist care at costs comparable to those of therapy copays. Learn more about our online alcohol treatment program to choose a plan that works for you.
Whether you're working towards sobriety, moderation, or just want to learn more about your current relationship with alcohol, our community can provide useful online support. Reflect on personal experiences, raise questions about your drinking habits, and share resources on topics like mental health, effects of alcohol use disorder, managing drinking habits, and so much more. Start a new thread or reply to an existing one to connect with others on their own treatment journey.
There are so many benefits to joining an online community. Discussing your experience with others can provide tremendous empowerment and accountability as you change your relationship with alcohol. Whether you connect with a loved one in recovery, through in-person support group meetings, or via a digital community like Monument, having a healthy support system throughout your recovery journey can make all the difference. Hundreds of members join the Monument Community every week to connect with others, learn tips and tools, and build healthier habits as it relates to their drinking. Check out our free resources, connect with others navigating the alcohol recovery timeline, and work with leading clinicians who have dedicated their careers to treating substance use disorders (like alcohol use disorder).