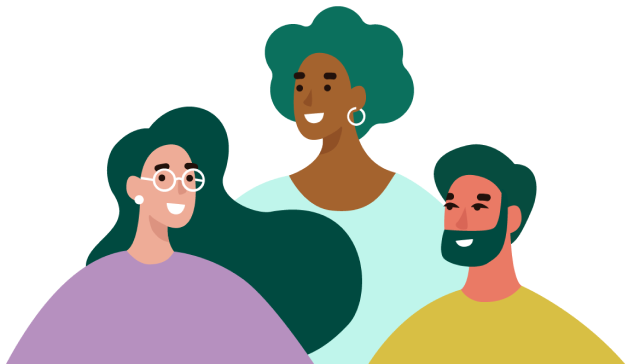 Join our online alcohol support forum
The Monument Community is a home for collective wisdom and healing. Become a member to get the relief and encouragement you deserve in a 24/7 anonymous forum and unlimited alcohol support groups.
Join Monument
Your anonymous forum to share whatever's on your mind with people who get it.
Unlock the 24/7 support of our online alcohol support forum, including channels about sobriety and moderation, and private support group chats. All are welcome, wherever you are on your journey.
Join the community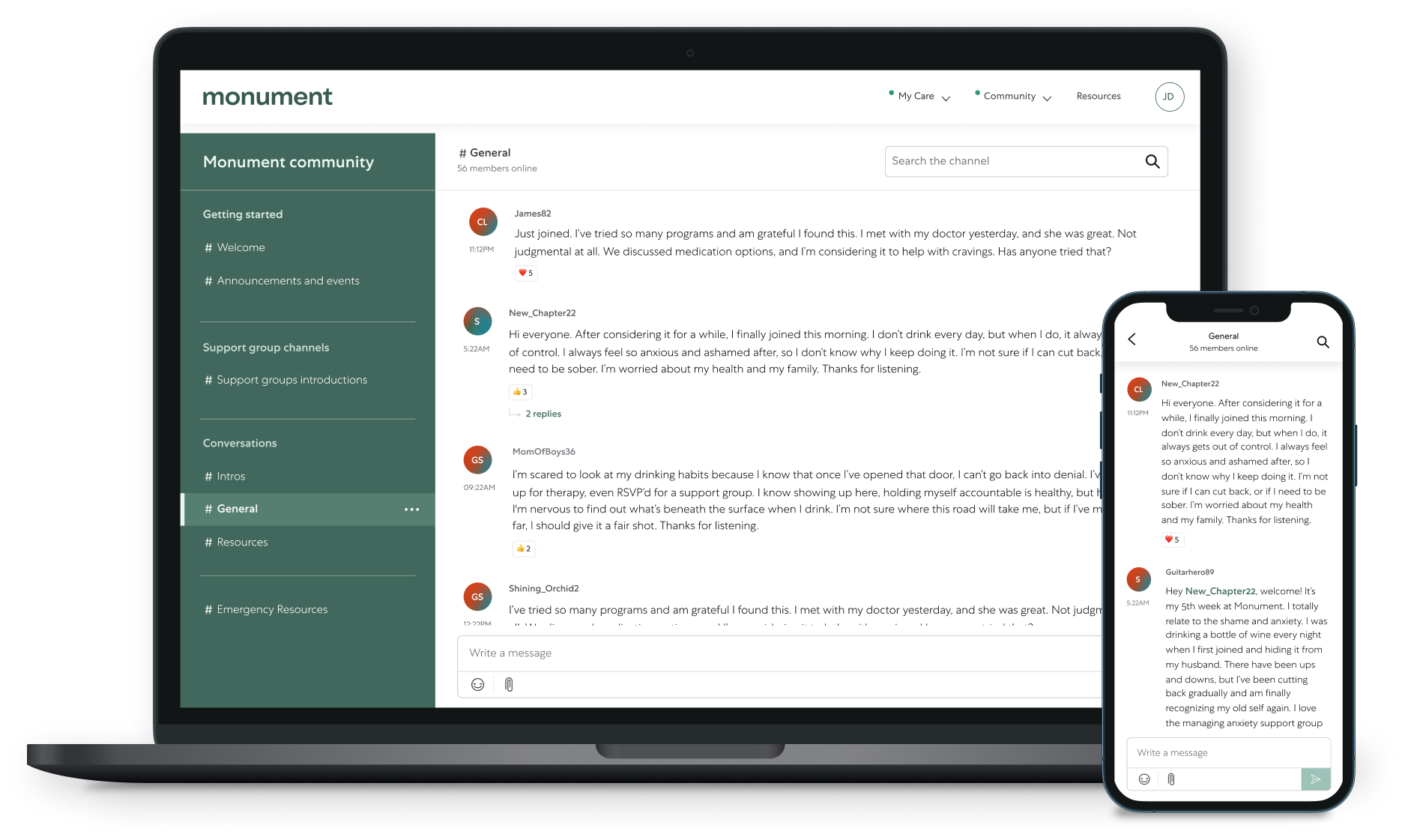 Benefits of the Monument Community
Entirely anonymous
When you join Monument you're assigned a random nickname (that you can edit!). This is a safe space to ask questions, share experiences, and make connections, as anonymously as you'd like.
In the comfort of your home
Our online alcohol support forum meets you where you are. Unlike in-person rehab and traditional programs, you don't have to drive to a meeting or even introduce yourself. You can check in with your community at any time.
A judgment-free environment
We accept you exactly as you are, without judgment. Changing your relationship with alcohol is something to be proud of, and we're here to remind you of that. The alcohol forum is moderated so that everyone feels safe and welcome.
Monument Community Guidelines
These guidelines help us create a safe and supportive space across Monument – in support groups, support group chats, in the community forum, and anywhere else you connect with Monument members, clinicians, or employees. We ask that you support each other by honoring the following principles:
Uphold confidentiality
Whatever is said here, stays here. Take the wisdom you learn from others, but leave personal details behind.
If you do decide to speak to fellow members outside of Monument, we ask that you please refrain from discussing outside conversations in Monument spaces. Monument is not responsible for any interactions that take place off-platform.
Call into groups from a private space, so partners, friends, or family don't see or hear the confidential group space. Exceptions are made for specific calls like Making Progress Together, which is intended for families of Monument members.
Show up sober
We welcome members at every stage in their journey and support goals for both sobriety and moderation or harm-reduction. However, we require that you are not under the influence while participating in a group. This means not using any mind or mood altering substances before or during a group session. If you are under the influence you may listen with your camera off and your microphone muted.
Please refrain from smoking or vaping on camera.
Make space for others
Please do not talk over or interrupt one another. Exercise awareness and consideration of other members.
We ask that you limit shares to 2-3 minutes. Group is intended to spark discussion, and no one individual should be dominating the conversation. Moderators may kindly ask you to wrap up your thoughts if others have reflections and responses of their own to share.
If you have a thought while someone else is speaking, please use the chat feature to comment instead of interrupting their share.
Be aware of your surroundings, background noise, or other distractions. Keep your camera off if you are driving, or involved in other activities. Place yourself on mute when you're not speaking.
Be kind and respectful
At Monument we lift each other up. There is no room for discriminatory, judgemental, hateful, violent, threatening, insulting, or exclusionary language.
We do not allow expressions of attraction, requests for romantic relationships, sexual advances or innuendos, or any lewd remarks. It is not appropriate to comment on another member's appearance.
Please limit the use of profanity.
Though this is a place to share hard and challenging experiences, please refrain from sharing explicit details of violence and trauma to avoid triggering other members.
Avoid promotional posting such as social media accounts, businesses, products/services, or personal blogs. These distract from our common mission and will be removed.
Honor identity-based spaces and practice inclusion
Monument hosts several identity-based groups. (BIPOC, Women, Men, LGBTQIA+, and others). Please only attend groups that are relevant to your own identity and needs.
One of the ways we respect gender diversity is by sharing pronouns at the beginning of group calls. Please refrain from assuming someone's pronouns unless they've been explicitly stated.
Monument is inclusive of goals for sobriety and moderation or harm reduction. Please respect others' goals. Everyone's journey is unique and valid.
We recognize that racism, sexism, classism, homophobia, ageism, fatphobia, ableism and more are all lived experiences that are known contributors to alcohol use. We ask that you validate the feelings of individuals in marginalized communities, and be mindful of not minimizing anyone's lived experiences.
Share experiences, seek curiosity with others
Oftentimes, members come to group for support, not solutions. When in doubt, we encourage you to acknowledge others' feelings and be curious instead of providing advice.
Use I-statements when giving feedback, speak from your own experiences like "In my experience…", "what works for me is…", etc.
You are welcome to share your own treatment experience in a group. However, please do not seek or share medical advice. If you have specific medical questions, please consult your physician or therapist. Support groups do not constitute therapy or other healthcare services.
Take care of yourself
If triggering or overwhelming conversations arise please do what you need to take care of yourself. You can turn off your camera, mute the call, or walk away to take a breath, or leave the call.
In case of emergency…
This is not an emergency medical/crisis service. Please visit the following link for a list of emergency and crisis services or call 911
https://support.joinmonument.com/hc/en-us/articles/360040717114-Are-you-experiencing-a-crisis-or-emergency for crisis services
Frequently asked questions
What does it cost to join the community?
Monument membership is $14.99/month. Monument members get access to our 24/7 community forum, unlimited moderated support groups, and other digital recovery tools. You can seamlessly chat with other members in community channels, privately connect with folks in your online alcohol support groups, and learn about the latest resources from Monument all in one place. Members also get access to our network of specialized clinicians, and can add on insurance-covered care including therapy and/or medication-assisted treatment (MAT). Become a Monument member today.
What topics are discussed in an online alcohol support forum?
Whether you're working towards sobriety, moderation, or just want to learn more about your current relationship with alcohol, our community can provide useful online support. Reflect on personal experiences, raise questions about your drinking habits, and share resources on topics like mental health, effects of alcohol use disorder, managing drinking habits, and so much more. Start a new thread or reply to an existing one to connect with others on their own treatment journey.
Why should I join the Monument Community?
There are so many benefits to joining an online community. Sharing your experience with others can provide tremendous empowerment and accountability as you change your relationship with alcohol. Whether you connect through in-person support group meetings or via a digital community like Monument, having a healthy support system throughout your recovery journey can make all the difference.
Our members join Monument to connect with others, learn tips and tools, and make meaningful progress toward their sobriety or moderation goals. By becoming a Monument member you also get access to our network of specialized therapists and physicians who can provide one-on-one care in addition to your community support.