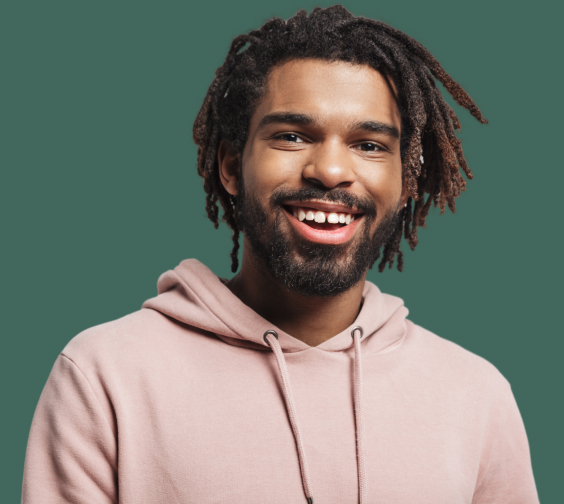 Online alcohol therapy to build healthier habits
Alcohol use disorder is influenced by psychological and societal factors, and can be intensified by mental health conditions like anxiety and depression. That's where online alcohol therapy comes in. Alcohol therapy is proven to be an effective treatment option for meaningfully reducing your alcohol consumption on your sobriety or moderation journey.
Explore my options
"I've engaged with lots of therapists over the years. My therapist at Monument is the first to make me feel truly not-judged. I wish I'd found you sooner."

Monument Member

★

★

★

★

★
Steps to treatment
How online alcohol therapy works
Match with a specialized therapist

You'll be matched with a licensed therapist and physician to guide you throughout your alcohol treatment plan. You will meet with your therapist on a weekly or biweekly basis depending on your plan.

Set goals and create a treatment plan

You'll work with your therapist to align on what success means to you, whether that's sobriety or moderation. Your therapist will build a curriculum of therapy sessions designed to meaningfully reduce your alcohol consumption.

Make progress with structured guidance

Your alcohol therapy program will include phases of treatment that build upon each other until you reach your goal. Medication to stop drinking can also supplement your therapy.
Why alcohol therapy works
Research shows counseling techniques like cognitive behavioral therapy and motivational interviewing can empower long-lasting behavioral change and improve your mental health. Your therapist will use these evidence-based strategies to help you achieve your alcohol treatment goals.
Cognitive behavioral therapy helps you…

Build coping skills without alcohol
Manage cravings and urges to drink
Manage negative thoughts and feelings
Persevere through setbacks
Address co-occuring anxiety and/or depression
Motivational interviewing helps you…

Identify goals and aspirations
Build supportive and healthy relationships
Cultivate your inner motivation
Develop a commitment to your goals
Create an action plan to achieve them
Benefits of online alcohol therapy with Monument
In the comfort of your home
Virtual, flexible treatment allows you to do therapy on your terms. Unlike rehab and in-person care, there's no waiting room with an online alcohol treatment program. Plus, Monument's platform is 100% secure and confidential.
Guidance & accountability
Your licensed therapist will provide ongoing counseling, and is available via chat for non-urgent questions. They'll show up for you as you show up for yourself.
A judgment-free environment
We accept you exactly as you are, without judgment. Alcohol use disorder is a medical condition, not a moral failing, and we're here to help.
Long-lasting results
Drinking less is just the beginning. What you learn in therapy will better equip you to navigate all of life's ups-and-downs, and find authentic joy along the way.
Therapist reviews
The average therapist rating at Monument is 4.9/5
Read the reviews
Frequently asked questions
Great question! Our team has put together the following resources about what to expect from online treatment:
What To Expect From Online Alcohol Therapy
Treatment Plan Roadmap: How To Reach Your Goals With Monument
Alcohol Recovery Timeline: What To Expect
While these resources can help set expectations, it's also important to know that everyone's journey is unique, and your therapy sessions will be specifically tailored to you and your goals for sobriety or moderation. Your therapist will review your medical history, including your past alcohol use, risk for alcohol dependence, and anything else you choose to share. After getting to know each other in your intro session, you'll receive counseling that helps you build new skills, manage thoughts and emotions, and reduce the role alcohol plays in your life.
Unlike in other counseling programs and online rehabs, the therapists on our platform have direct experience treating alcohol use disorder. Monument works with licensed mental health counselors and licensed clinical social workers to get you the specialized care you deserve. They've dedicated their careers to helping people change their lives through alcohol treatment programs. Every treatment provider has been vetted and background checked, has years of relevant mental health experience treating substance use disorders (like alcohol use disorder), and is proficient in cognitive behavioral therapy, contingency management, and motivational interviewing.
Therapy plans at Monument are designed to produce meaningful results aligned with your sobriety or moderation goals. Your counseling sessions won't begin with 'tell me how you're feeling.' Your treatment provider will offer structure, guidance, and support to help you reduce your alcohol consumption. Additionally, life doesn't have to stop to make progress. Unlike inpatient rehab or in-person meetings, therapy takes place entirely online, and on your own time.
Monument's alcohol therapy program utilizes evidence-based, patient-first treatment methods. That means the therapists on our platform all have direct experience in substance use disorder treatment, and are trained in modalities that research has proven to be effective in helping people reduce their drinking. These modalities include cognitive behavioral therapy and motivational interviewing. Moreover, therapy at Monument is responsive to your needs, and structured to ensure you're making progress towards your sobriety or moderation goals.
Yes! Therapy empowers long-lasting behavioral change and improves overall mental wellbeing. While medications such as naltrexone and disulfiram are effective evidence-based tools to treat alcohol use disorder (AKA 'alcohol dependency'), it's beneficial to also address the psychological and social influences on your relationship with alcohol through online therapy. Engaging in multiple treatment options provides additional accountability and support throughout the sobriety or moderation journey.
Online alcohol therapy at Monument provides the benefits of in-person alcohol counseling, without the hassle of commuting, and the prices of traditional inpatient or outpatient programs. In online alcohol therapy, you get to work with a therapist specialized in helping people change their drinking habits from the comfort of your own home. Therapists on the Monument platform use cognitive behavioral therapy (CBT), which is proven to help reduce alcohol consumption,1 and is considered the gold standard in alcohol treatment by leading addiction professionals. CBT can help you:
Develop healthy coping mechanisms
Address co-occurring depression and/or anxiety
Restructure negative thought patterns
Manage urges to drink
By attending online therapy, you can meet with your therapist on your own schedule, and connect with them over chat throughout the week. You can discover other benefits by learning more about why experts recommend therapy to stop drinking.
It's our mission to make specialized alcohol therapy as accessible as possible, and fortunately, we're able to offer online treatment at a fraction of the cost of traditional programs. Monument's out-of-pocket prices are competitive with the cost of many mental health copays, and we also accept insurance from many major providers. Additionally, Monument has a free community including access to therapist-moderated support groups, an anonymous forum, and expert resources.
At this time, you must be 18 years of age or older in order to enroll in a Monument membership or treatment plan. Minors are able to read expert insights for free by visiting our resource library.
Depending on your membership, you will meet with a licensed therapist every week or every other week for an hour-long video session. You can switch your therapy frequency at any time depending on your needs. You'll be able to schedule appointments whenever is best for your schedule, including nights and weekends. You can also reach your therapist via chat with any non-urgent questions.
Still have questions about online alcohol therapy?
Get started