Halloween drinks run the gamut of disturbingly realistic (surely that's not actual blood in the punch bowl?) to delightfully kitschy. However, no matter how cute or gruesome the drinks at a Halloween party look, they almost always contain alcohol, which is a hard pass for those of us who don't imbibe.
Thankfully, all you need to get in the Halloween spirit is a fun costume, your squad, and a bag of your favorite candy—no alcohol required. But if you're going the extra mile and throwing a party this Halloween, a selection of non-alcoholic drinks is a must, because nothing makes people thirstier than chowing down on mini chocolate bars.
10 Halloween-Themed Alcohol-Free Drinks
Whether you're craving something sugary to celebrate in true trick-or-treater fashion or need a drink that'll cleanse your palate in between bites of candy, this list of Halloween alcohol-free cocktails has something for everyone.
1. Hocus Pocus Punch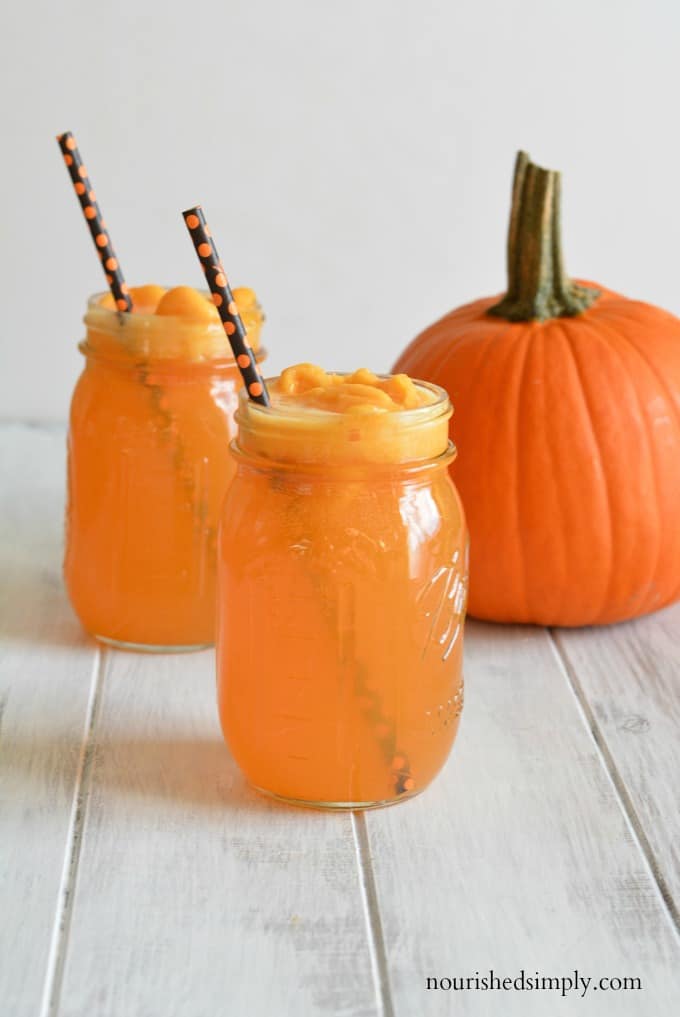 Photo courtesy of Nourished Simply
Channel your inner Sanderson sister and whip up a batch of this Hocus Pocus Punch. Lucky for you, the ingredients for this drink are simple and can be found at any store—no oil of boil or dead man's toe needed for this recipe! Make this drink by the glass or multiply the recipe as needed and serve in a large punch bowl.
2. Pomegranate Cider Spritzer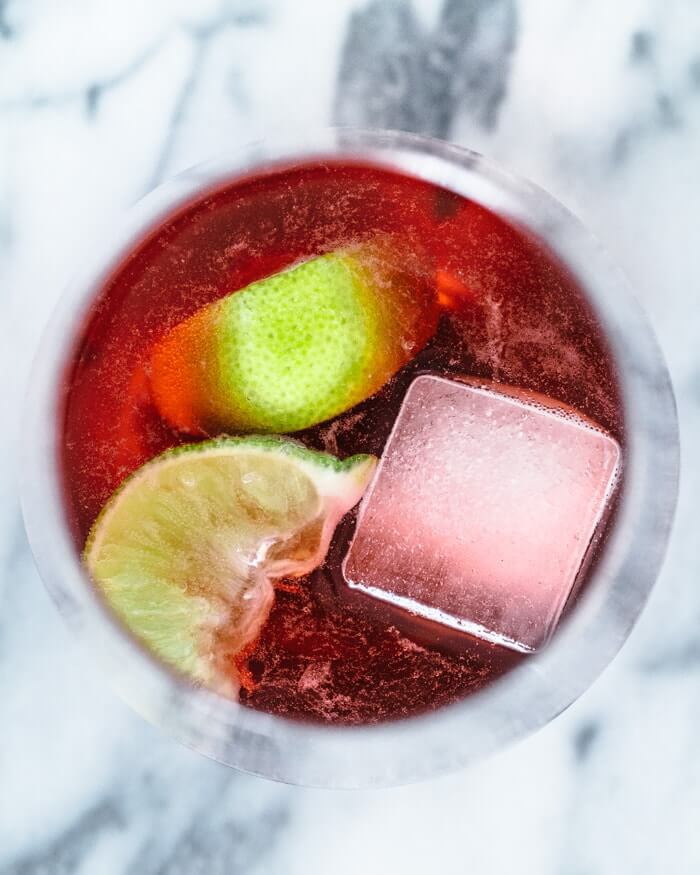 Photo courtesy of A Couple Cooks
Pomegranate Cider Spritzer is essentially fall in a cup, and I'm all for it. It uses an unlikely combination of pomegranate juice and apple cider, plus a splash of soda water to add some festive bubbles. The tartness of the pomegranate juice blends nicely with the sweet apple cider for a truly unique flavor. Pop a lime wedge into each glass to really impress your spooky guests.
3. Golden Glow Water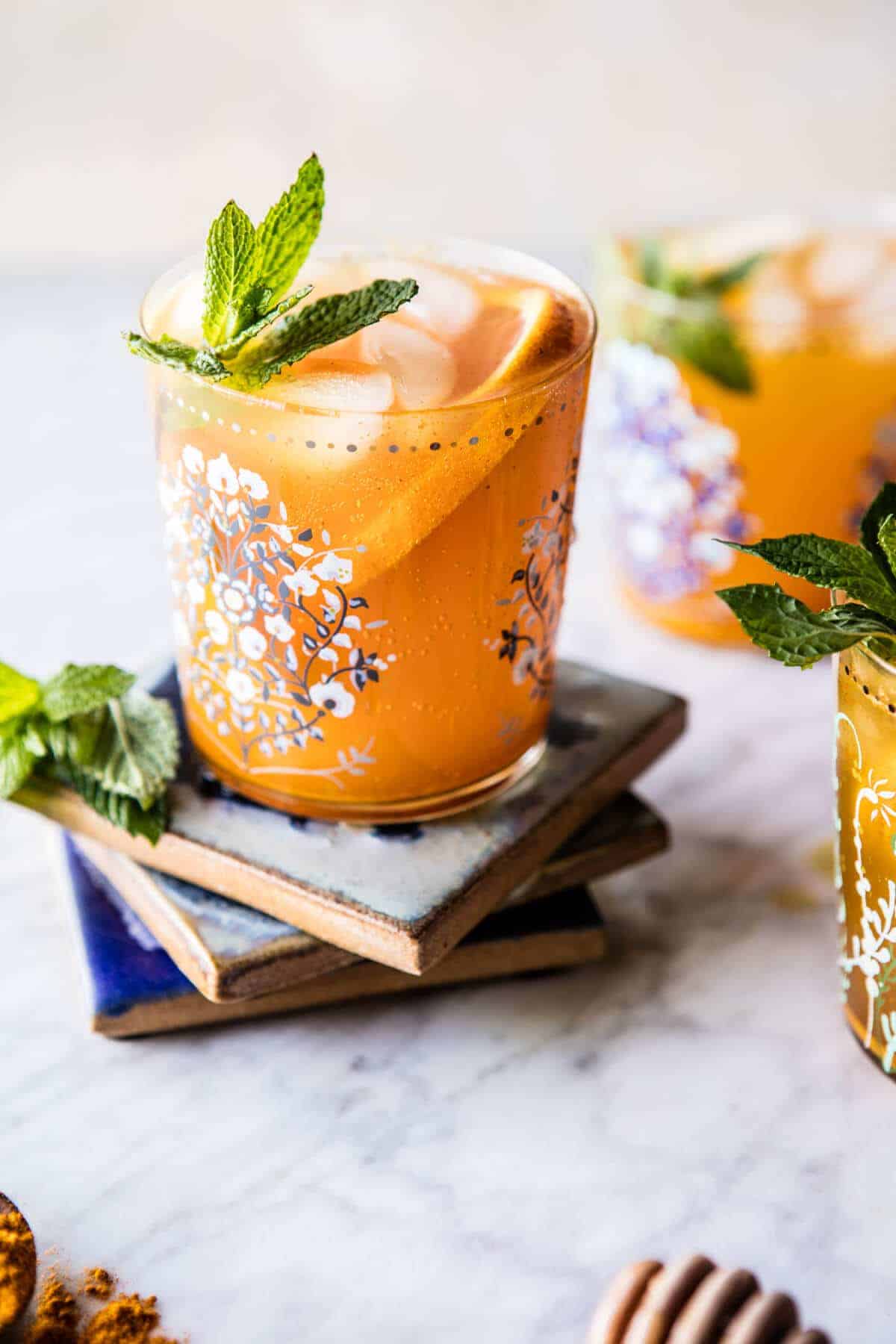 Photo courtesy of Half Baked Harvest
This Golden Glow Water is jam-packed full of good-for-you ingredients. Spicy ginger, turmeric, and cayenne are balanced nicely with a drizzle of honey and molasses in this easy alcohol-free cocktail recipe. To make this drink a little more interesting, top it off with some kombucha or your favorite sparkling water and garnish with an orange slice. Or if a healthy alcohol-free cocktail isn't at the top of your Halloween wishlist, no one said you couldn't pair this drink with a few mini candy bars!
4. Pumpkin Butterbeer Hot Chocolate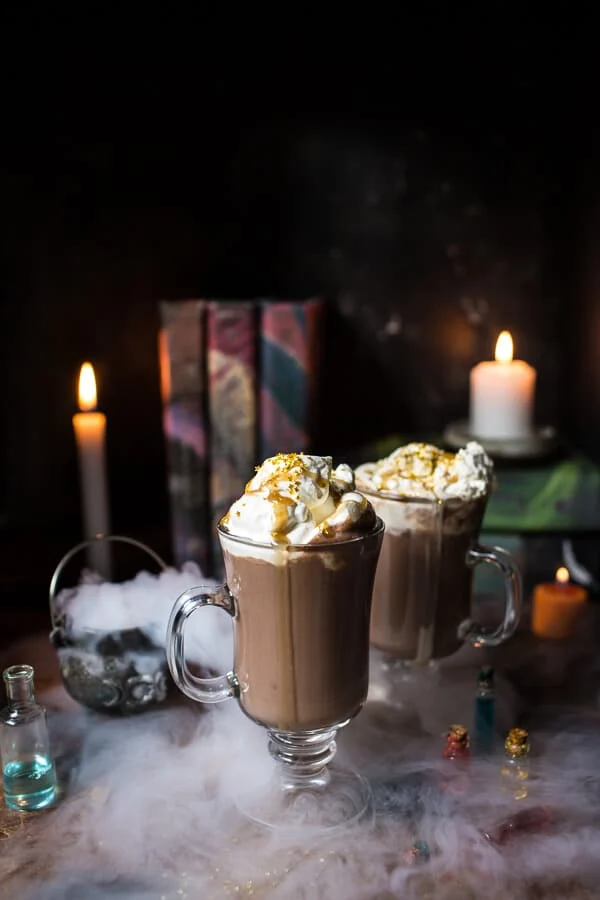 Photo courtesy of Half Baked Harvest
Did you really throw a Halloween party if there wasn't at least one Harry Potter reference on the menu? This pumpkin butterbeer is essentially a butterscotch hot chocolate that's been topped with homemade whipped cream and drizzled with more butterscotch sauce. Didn't dress up as Betty Crocker this Halloween? No worries, you can always buy pre-made whipped cream and butterscotch sauce at the store instead of making it yourself.
5. Sparkling Apple Cider Sangria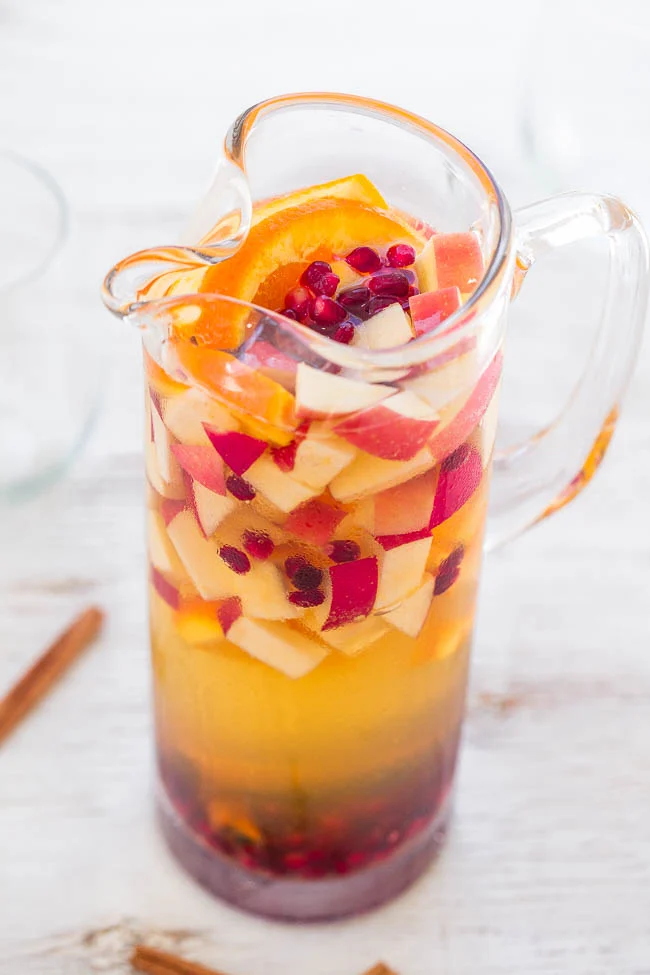 Photo courtesy of the Avery Cooks blog
This fall-inspired sangria features citrus green tea and non-alcoholic sparkling apple cider. When combined with the fruit slices and cinnamon sticks, this sangria turns a light orange color that's perfect for any Halloween party. To prevent the sangria from getting watered down, freeze some of the green tea in an ice cube tray to keep your drinks cold.
6. Gummy Bear Mocktail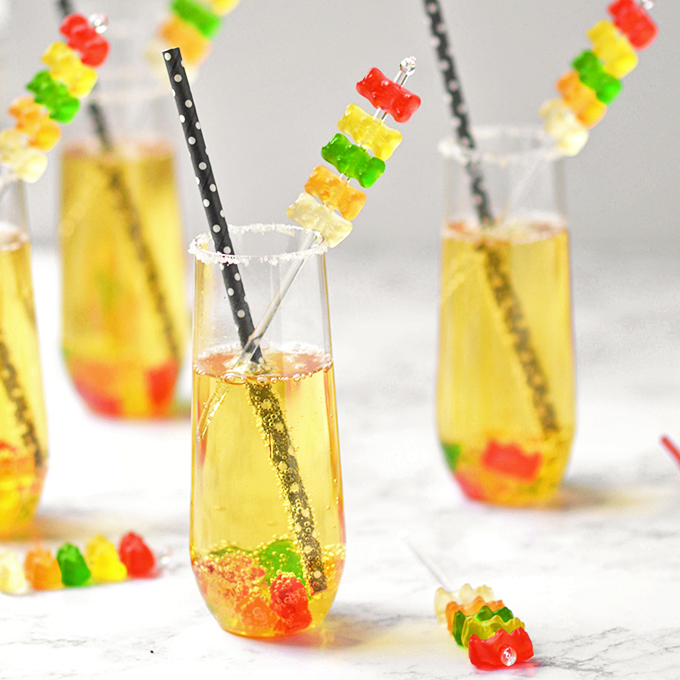 Photo courtesy of Simple Seasonal
Nothing says 'Halloween' quite like an alcohol-free cocktail that's pure sugar. To make this Gummy Bear Mocktail, rim each glass with sugar, then pop a few gummy bears into the bottom of each glass (you can also use gummy worms or any other Halloween gummy you'd like). Then, top off each glass with sparkling apple cider and start sipping. For the full effect, slide a few gummy bears onto a swizzle stick and put one in each glass.
7. Sparkling Pumpkin Pie Mocktail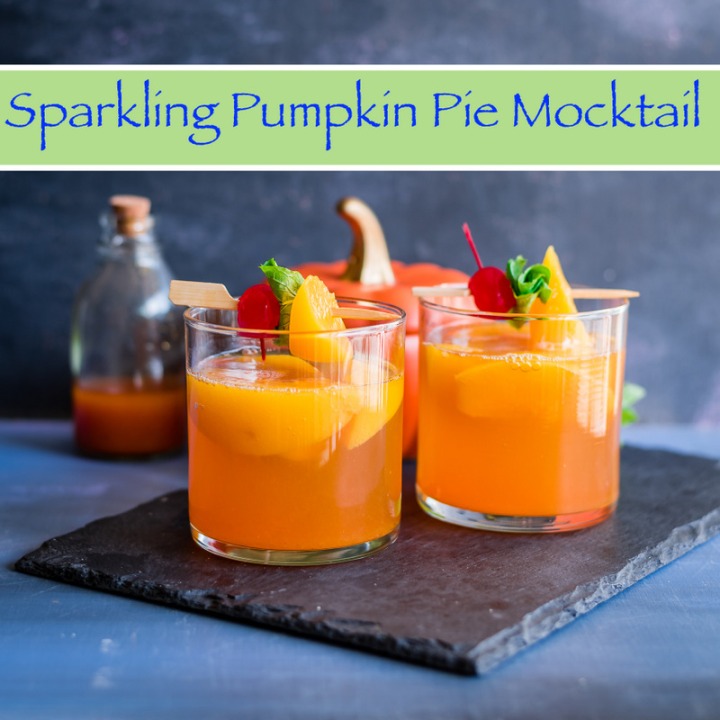 Photo courtesy of Target Made Me Do It
Don't let the name Sparkling Pumpkin Pie Mocktail fool you, there's nothing pumpkin about this drink except for a few spoonfuls of obligatory pumpkin puree. However, this drink's cheerful orange color makes it perfect for Halloween. Sparkling apple cider is mixed with pumpkin pie spice and served with frozen peach slices for a unique fall drink your guests will want a second glass of.
8. Strawberry Virgin Margarita

Photo courtesy of Julie's Eats and Treats
When the clock strikes midnight, make a batch of virgin margaritas à la Practical Magic. This vegan drink recipe uses just five ingredients and can easily be prepared for a crowd. To make this alcohol-free beverage paleo-friendly, omit the orange blossom water and use a little extra orange juice instead.
9. Purple People Eater Punch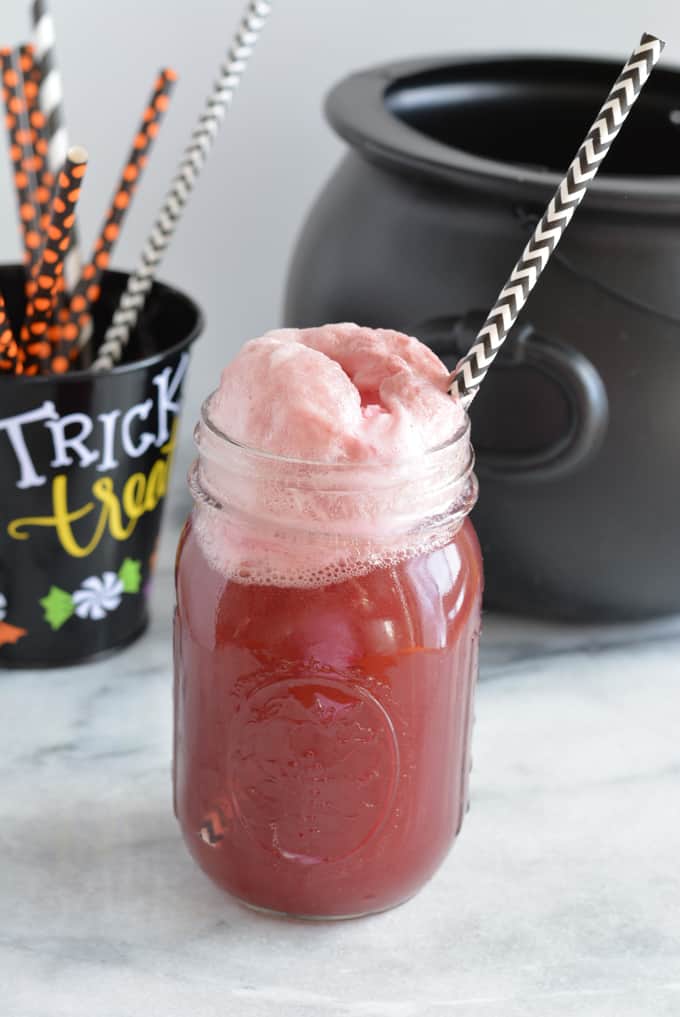 Photo courtesy of Nourished Simply
This three-ingredient punch tastes just like the stuff your grandma used to make for family holidays. Lemon-lime soda, grape juice, and sorbet make for a refreshing drink that can double as dessert. Because sorbet melts quickly, wait to prep this punch until the last minute.
10. Slow Cooker Vampire Punch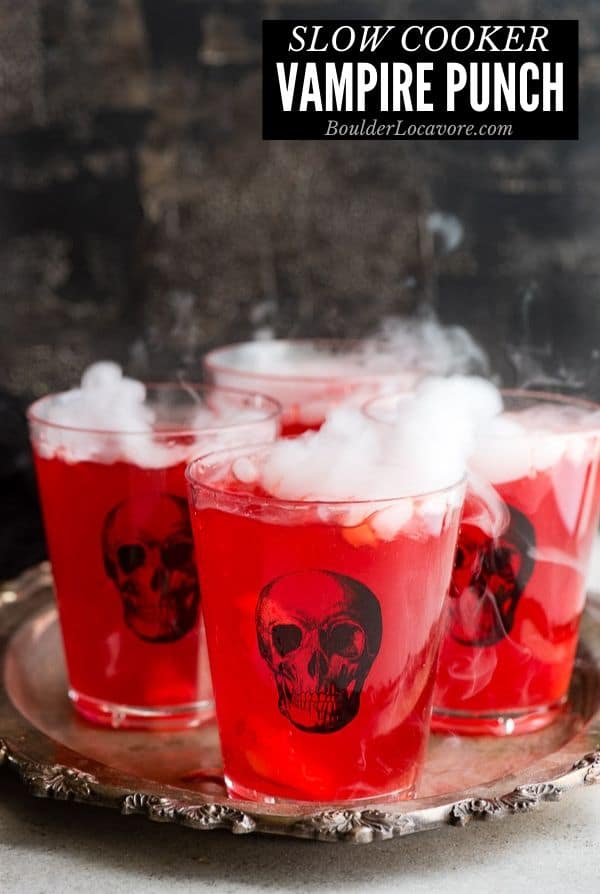 Photo courtesy of Boulder Locavore
This blood red punch gets its vibrant coloring from a mixture of fruit punch and Red Hot candies. Serve this alcohol-free drink straight from the slow cooker, or pop it in the fridge for a few hours and serve chilled. To make this drink spookier, fill up a rubber glove with water and freeze it to make a giant ice cube in the shape of a hand. Your scary punch bowl is sure to be a hit.
Tips for Hosting an Alcohol-Free Halloween Celebration
While many adults associate Halloween with alcohol, there are many things we loved about this holiday as children that can be revisited in adulthood. It's always fun to bust out the classic pumpkin carving, haunted house trips, or horror movie marathons. Invite your other sober friends, or people you know are participating in Sober October. Plus, an alcohol-free event can be refreshing even for your friends who do drink. Just make sure to communicate clearly to party-goers that this celebration is alcohol-free! For more ideas, check out these 6 tips for celebrating halloween without alcohol. No matter how you decide to throw an alcohol-free halloween party, you should be proud 
Disclaimer: Our articles and resources do not constitute clinical or licensed therapy or other health care services. If you need counseling or therapy services please contact a licensed provider. If this is a medical emergency, call 911.