I watch scary movies, read horror novels, and frequently wear t-shirts with monsters on them, so I guess you could say I'm one of those people who celebrates Halloween all year long. However, my first Halloween in recovery was spent eating Indian takeout and watching Breaking Bad. Certainly not very ghoulish, but that was the level of intensity that I could handle at two months sober. I'm really glad I was wise enough to recognize my feelings because at that time it was hard enough to get through any day without alcohol, let alone a day dedicated to getting drunk while wearing a bad wig.
Halloween is a unique holiday in that you can get really into it or just sort of ignore it entirely. Although it doesn't come with the same baggage that the big winter holidays tend to have, it is most definitely one of the heavy drinking days, which is why you might feel weird pressure from friends or get FOMO from social media.
But that doesn't mean that a sober Halloween has to be a total bummer. In fact, there are a number of reasons why you might want to forgo drinking this year.
What are the Benefits of a Sober Halloween?
There are many, many benefits of staying sober, not just on Halloween. However, in the spirit of the season, I've compiled a few holiday appropriate ones. 
Your night can have a happy ending instead of a scary one
I took a cab home through Manhattan after midnight one Halloween and passed by several drunk people who seemed to be in the process of turning into werewolves. I won't gross you out with the details, but let's just say there was a lot of screaming and barfing. A huge benefit of spending Halloween sober is that you can keep your night "fun scary" instead of "scary scary" like a trip to the emergency room, drunk driving, or getting into a fight. 
You can take a break from worrying about the hair-raising health effects of alcohol
It's been well documented that alcohol really does nothing positive for your mental or physical health, which can cause a lot of cognitive dissonance if you struggle managing your alcohol use but still want to be healthy. (I'm not criticizing here, I did the exact same thing.) Staying sober, especially on a festive night like Halloween, means spending less mental energy worrying about your liver and more time focusing on keeping your elaborate costume looking pristine.
You won't be a hungover zombie on November 1st
When you spend Halloween alcohol-free, you won't wake up the next day groaning like the undead because your body is completely dehydrated. The "hangxiety" caused by alcohol messing with your serotonin levels is even worse, resulting in racing thoughts, pounding heartbeat, and butterflies. Insead, you can bypass the hangover entirely and who knows, maybe even have the energy to whip up a batch of pumpkin pancakes…or go to the diner and order some.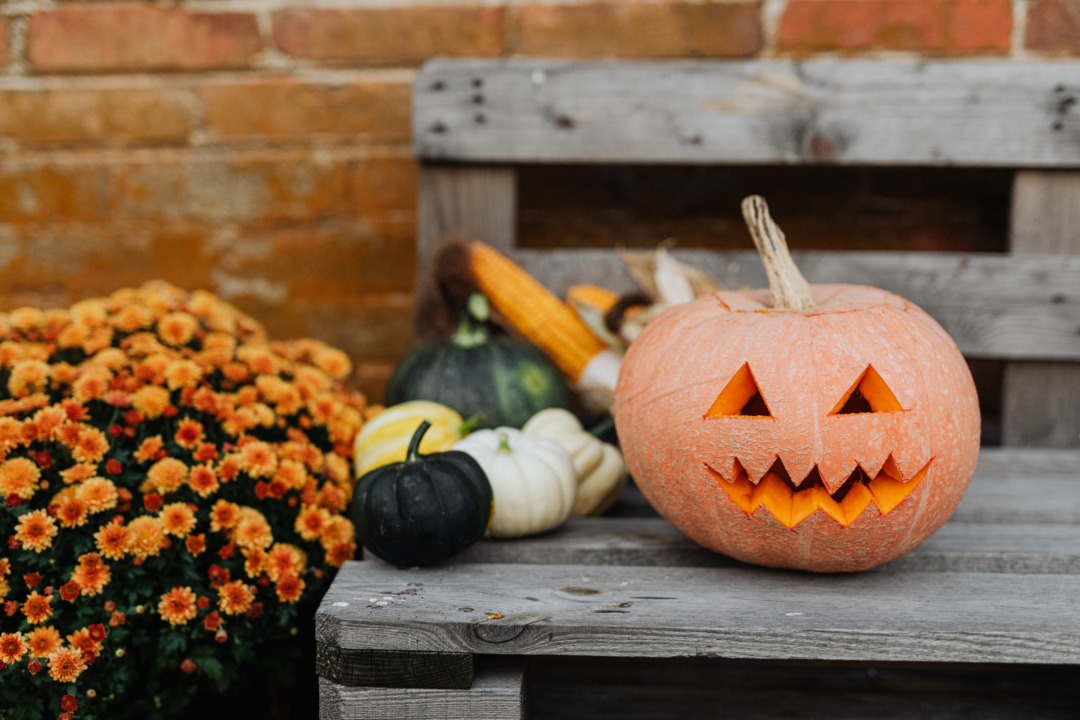 How to Celebrate Halloween Without Drinking
Whether you're participating in Sober October, or just looking for alcohol-free ways to celebrate, you can still have a festive Halloween without drinking. Here's a list of different ways you can celebrate, depending on the level of effort you'd like to expend. 
1. Have a Scary Movie Marathon 
Horror movies not only gave me a new understanding of my addiction, but they are also just really, really fun to watch! Plus, having your own mini-movie marathon is one of the easiest ways to celebrate, whether it's a solo viewing or a group watch party—just try not to eat all the candy that's meant for the trick or treaters. 
Here are a few personal recommendations I've broken down by category:
Stone cold classics.

These films withstand the test of time and have been highly influential on the generations of filmmakers that followed. This list includes George A. Romero's

Night of the Living Dead

, John Carpenter's

The Thing

, Stanley Kubrick's

The Shining

, John Landis'

An American Werewolf in London

, and Nobuhiko Obayashi's

House

. You really can't go wrong with any of these movies.

Pure 80s! In the mood for lots of cheesiness and poofy hair? I would recommend Fright Night (1981), The Hunger (1983), Night of the Creeps (1986), Lost Boys (1987), and Elvira: Mistress of the Dark (1988). These movies are all excellent candidates for a group watching party.
Contemporary favorites. These critically-acclaimed films explore themes of racism, gender stereotypes, inequality, and trauma in fascinating (and scary!) ways. Watch Jordan Peele's Get Out, Alice Lowe's Prevenge, Bong Joon-ho's Parasite, Robert Eggers' The Witch, and Jennifer Kent's The Babadook, and then spend days peeling back the layers of meaning.
Don't say I didn't warn you. This last category includes movies that I watched with my hands over my eyes because they were so unbelievably creepy. I wouldn't recommend watching alone unless you are thoroughly psychologically prepared. These films include Ari Asher's Hereditary, Takashi Shimizu's The Grudge (there are multiple versions of this film and I am pretty sure they are all terrifying), David Moreau and Xavier Palud's Them, Neil Marshall's The Descent, and André Øvredal's The Autopsy of Jane Doe. Don't say I didn't warn you!
2. Mix Up Some Halloween Alcohol-Free Cocktails 
Whether you're hosting a big event or a casual couch party, seasonal alcohol-free cocktails are a great way to add some extra fun and flavor to your night. 
You can get as elaborate with the ingredients as you want, but a few recommendations that are both tasty and reasonably easy to make include pomegranate spritzer, sparkling apple cider sangria, and raspberry lemonade slushies. If this sounds like maybe too much work, you can always just stick with seltzer, or if you're feeling it, add some ice, lemon…and gummy bears!

3. Host Your Own Costume Party 
A big part of Halloween is obviously the costumes, so why not dress up? If you're hosting your own party, you can try having a fun theme. An easy one is to ask your guests to come as their favorite TV or movie character. You can also get hyper-specific and make the theme something like What We Do in the Shadows Victorian goth or Blade Runner cyber-chic. 
Feel free to invite a mix of sober and non-sober people, as well as their kids! Since the main focus of your party won't be alcohol, you can also have games and activities that include the little ones. 
Don't forget to have lots of tasty treats available, you can stock up on snacks at the grocery store, or ask guests to bring their own favorite Halloween desserts…like those cute little meringue ghosts.
Support Group: How to manage your drinking post-quarantine
Even as quarantine restrictions lessen, we're still navigating the stressors and impacts of the pandemic. Join a judgment-free discussion about how to moderate your drinking or stay sober post-quarantine.
Check out the Schedule
4. Head to a Local Haunted Attraction 
There are also plenty of events happening during the day and into Halloween night, like haunted houses and hayrides, corn mazes, and whatever local haunted attractions are near you—parades, graveyard tours, concerts, etc. Check your local listings to see what's happening nearby, put on a sweater, and bring your family or friends!

5. Have a Wild Time With The Kiddos
Kids have a special ability to appreciate Halloween, so if you've got kiddos of your own (or relatives or friends with kids), spending time with them is one of the purest ways to experience the holiday. You can also participate by putting out a jack-o-lantern, hanging out on your stoop or in your yard, and giving out candy to the neighborhood trick or treaters. Bonus: if you have the kind of dog or cat that is ok with wearing clothes, dress them up, too!
6. Remember That It's Okay to Stay In
Like I said before, Halloween can either be a big deal or a non-event. Honor however you're feeling today—if that means staying in this year and celebrating in your own way (or not celebrating), do what feels right. 
Some days, simply not drinking takes up a lot of energy. It won't always be that way, but if that's where you are today, you aren't alone. 
* * * 
Spending Halloween 2013 with samosas and Walter White and not forcing myself "to be social" when I couldn't handle it is why I'm still sober today. In the years since, I've had bonkers Halloweens, epic party Halloweens, and a few Halloweens that were indistinguishable from regular days cause I just wasn't feeling it. Whatever your October 31st looks like this year, if you get through it without drinking, consider that a success.
Disclaimer: Our articles and resources do not constitute clinical or licensed therapy or other health care services. If you need counseling or therapy services please contact a licensed provider. If this is a medical emergency, call 911.