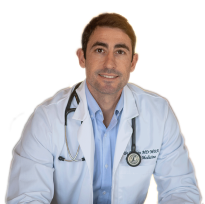 Abe Malkin
MD, MBA
About Dr. Malkin
Dr. Abe Malkin, M.D. M.B.A  received his MD/MBA degree from a joint program at Tufts University School of Medicine and Brandies University Heller School of Business. He then completed his Family Medicine Residency training at Kaiser Permanente in Los Angeles. Dr. Malkin is board certified in Family Medicine and an active member of the American Board of Family Medicine.
Dr. Malkin is the Founder and Medical Director of Concierge MD Los Angeles, a full-service Concierge Medicine practice in Southern California. He is also the Founder and Medical Director for Drip Hydration, an in-home IV infusion company, which has operations across CA, NY and several other states across the country.
Dr. Malkin is active in the area of Addiction Medicine and a member of the American Society of Addiction Medicine. He is the founder of Elite Home Detox, a home-based detox and addiction recovery service. He serves as the Medical Director for Grace Recovery Center and 1 Method Treatment Center, and is also a staff physician for Avalon Malibu.
A note from Dr. Abe:
"I'm passionate about my work because I can make a meaningful, long-lasting impact on patients' lives. I joined the Monument advisory board to help develop a novel approach to addiction treatment which will ultimately transform the landscape of addiction treatment altogether."
Education & Training:
MD/MBA graduate from Tufts University
Completed Family Medicine Residency at Kaiser Permanente
Licensing:
Board Certified in Family Medicine
Board Certified in Addiction Medicine