As more people embrace sobriety, either permanently or as part of sobriety challenges like Dry January or Sober September, many are also re-envisioning their at-home bar. Gone are the days of being confined to beer, wine, and spirits as we knew them. A more inclusive bar, including delicious non-alcoholic options, can empower you on your own sobriety or moderation journey, or provide exciting options for friends and family who aren't drinking for whatever reason. Below, we offer insights into how to build an inclusive at-home bar and create some of the best alcohol-free cocktails out there. 
Non-Alcoholic Bar Basics 
For years, those drinking alcohol at a party often had a dizzying array of choices, while people who were sober (either permanently or for the night) often had few options other than juice or soda. The good news is that this is beginning to change with the boom of the non-alcoholic beverage industry. 
What Is an Alcohol-Free Cocktail? 
As the name suggests, an alcohol-free cocktail is a beverage that contains no alcohol, while still offering the complexity of a delicious mixed drink. An alcohol-free cocktail often combines a variety of fruits, juices, and other ingredients to create its own appetizing flavor profile. Many of these drinks are inspired by well-known alcoholic cocktails, while others are entirely original inventions. You may also see alcohol-free cocktails referred to as "mocktails." 
Alcohol-free cocktails are often beautifully presented in glassware with a wide range of garnishes, from rock-salted glass rims to a skewer of pickles and shrimp on a spicy Virgin Mary. When it comes to crafting up your alcohol-free drink, the possibilities are endless. Some popular alcohol-free cocktails include: 
Virgin Mojitos 
The virgin mojito is a simple drink to make with just some lime juice, mint leaves, and club soda. Some people also add in other ingredients like honey to give the drink an extra punch of flavor. Plus, virgin mojitos look similar to regular mojitos, so if you don't want to explain to people why you're going alcohol-free, you can avoid questions and let people arrive at their own conclusions. 
Roy Rogers
A Roy Rogers is another easy non-alcoholic drink to make. All you need is Coke and some grenadine, which is a cherry-flavored extract. And to make your drink even more festive, look for some artisanal cherries to use as a garnish. 
Virgin Pina Colada
Whether you're trying to capture a tropical vibe or are actually on vacation surrounded by palm trees, consider a virgin piña colada. Just as long as you have access to a blender, you can whip up this frothy concoction using frozen pineapple chunks, pineapple juice, coconut milk, and pineapple wedges to garnish. 
While these drinks are some of the more well-known alcohol-free cocktail recipes, there's an infinite number of recipes to experiment with and alcohol-free traditions to explore. Join Monument's community to get tips from others changing their relationship with alcohol, and explore online alcohol treatment options to empower you on your journey. 
Ingredients to Stock in Your Alcohol-free Bar 
Many of the ingredients you need for your perfect alcohol-free cocktail are ingredients you probably already have in your bar or refrigerator. But, you may need to head out on a shopping trip to ensure that your alcohol-free bar is as versatile as possible. Below are some of the most essential ingredients to have on hand: 
#1 Sparkling Drinks
Sparkling water, sparkling cider, and sparkling grape juice are all great ingredients to add to your alcohol-free bar. In addition, apple cider can be an excellent base for many lighter alcohol-free cocktails. Plus, if you want to make your drink even healthier, you can add a small splash of apple cider vinegar. But, don't go too heavy with the apple cider vinegar: a little bit goes a very long way. 
#2 Bitters
Bitters can be added to any base, from ginger ale to sparkling water, to add extra flavor to your alcohol-free cocktail. The great news is that many bitters are flavored, so you can pick and choose the ones that work best for you based on your palate. The bad news is that many bitters contain trace amounts of alcohol, so be careful to find ones that are entirely free of alcohol if you are abstaining. 
Support Group: Preventing relapse through self-care
Drinking is something we do, not who we are. Join the discussion about understanding our self-worth and getting to know our true selves without alcohol.
Check out the Schedule
#3 Simple Syrup
Simple syrups are a great way to add a dose of sweetness to any of your alcohol-free cocktails. If you are super ambitious, you can even make your own simple syrup. Whether homemade or store-bought, remember to have a light hand as simple syrup is another ingredient where a little bit goes a long way.
#4 Aromatics 
Aromatics are a broad group of ingredients that add spiciness and punch to even the most basic beverages. One of our favorite aromatics is ginger. As an added bonus, ginger can help ease queasy stomachs. Another great aromatic option is fresh mint leaves. You can muddle these into your virgin mojito or alcohol-free margarita. 
#5 Craft Sodas
Just like the craft beer industry has exploded in recent years, so has craft soda. This means that you no longer have to pop open a can of Coke as your base for a virgin Roy Rogers. Instead, you can hunt down craft sodas that have really unique and complex flavor profiles. An added benefit is that many craft sodas are lower in sugar and other preservatives and include fewer unhealthy ingredients compared to their commercial counterparts.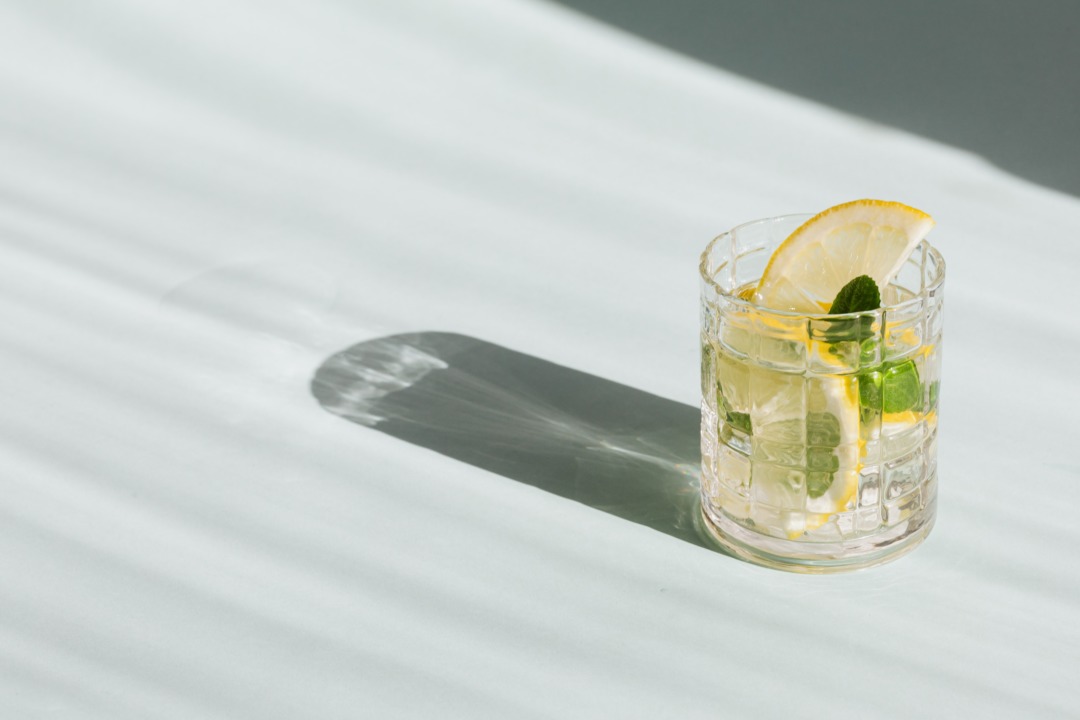 #6 Alcohol-Free Spirits
Alcohol-free spirits are another great choice to add to your bar. With each year, more and more manufacturers are entering this market space, which is great for alcohol-free cocktail fans!. There is already a wide range of non-alcoholic tequila, rum, and vodka to choose from. Many of these products taste as good, if not better than their alcoholic cousins, without any of the dreaded side effects of alcohol, like hangovers. And if non-alcoholic  spirits aren't your thing, there's also a wide variety of non-alcoholic beer and wine options. 
IMPORTANT: Some non-alcoholic beverages may contain very small amounts of alcohol (less than 0.5% ABV), in addition to caffeine and other botanicals. Make sure to read labels carefully and consult your doctor before consuming.
#7 Garnishes
Garnishes are a great way to elevate even the simplest drink to a work of art and enhance its existing flavor. However, make sure to pair your drink with a garnish that works for its flavor profile. Some garnishes to stock up on include lemons, limes, cherries, various types of fruit, and olives. Bonus tip: in the winter, cinnamon sticks can add a great spicy (and festive!) punch to many warm drinks. 
#8 Ice
This is an easy one to overlook, but ice is important for almost all drinks! There are even different shapes of ice for you to get creative with. From crushed ice to singular large cubes, the right ice selection can make your drink especially elegant.  
What Tools Do You Need for a DIY Alcohol-Free Cocktail Space
Now that you have all the ingredients you need to create your perfect alcohol-free cocktails, you can turn your attention to crafting the best possible space for your bar. Here are some of the things that you will need in your space: 
Great Storage Space
As the ingredient list above shows, your alcohol-free cocktail bar will have lots of bottles and miscellaneous items. It's great to have a single space to keep all of these items to avoid your living room or kitchen looking unnecessarily cluttered. One popular storage solution is a bar cart. These are for sale at lots of furniture retailers, or you can find great vintage bar carts at antique shops or thrift stores. 
Bartender's Tools
Having the right ingredients is only a portion of what you need to create the ideal alcohol-free cocktail for yourself or your guests. If you have spent any time in a bar, you have likely noticed that the bartenders have a range of tools of the trade lined up on the bar in front of them. Two of the most important ones are a shaker and a stirrer to make sure that your drinks are well mixed. If you are a fan of virgin mojitos, you might also want to invest in a muddler to make the job of muddling your mint leaves easier. Another helpful tool is a speed pour cap that you can put on any of your bottles once they are open. This will help you measure out the perfect amount of ingredients and ensure that your drinks are consistently great round after round. 
Quality Glassware and Decanters
Many people skimp on their glassware and sometimes even use disposable plastic cups. These are harmful for the environment and aren't the most sophisticated option. Nice glassware elevates the appearance of your drinks, and can even help them taste better. Also, using the same glassware for alcoholic and non-alcoholic drinks can allow people a degree of confidentiality if they don't want to explain their alcohol-free drink choice with others. Just make sure those not drinking alcohol know which drink is theirs.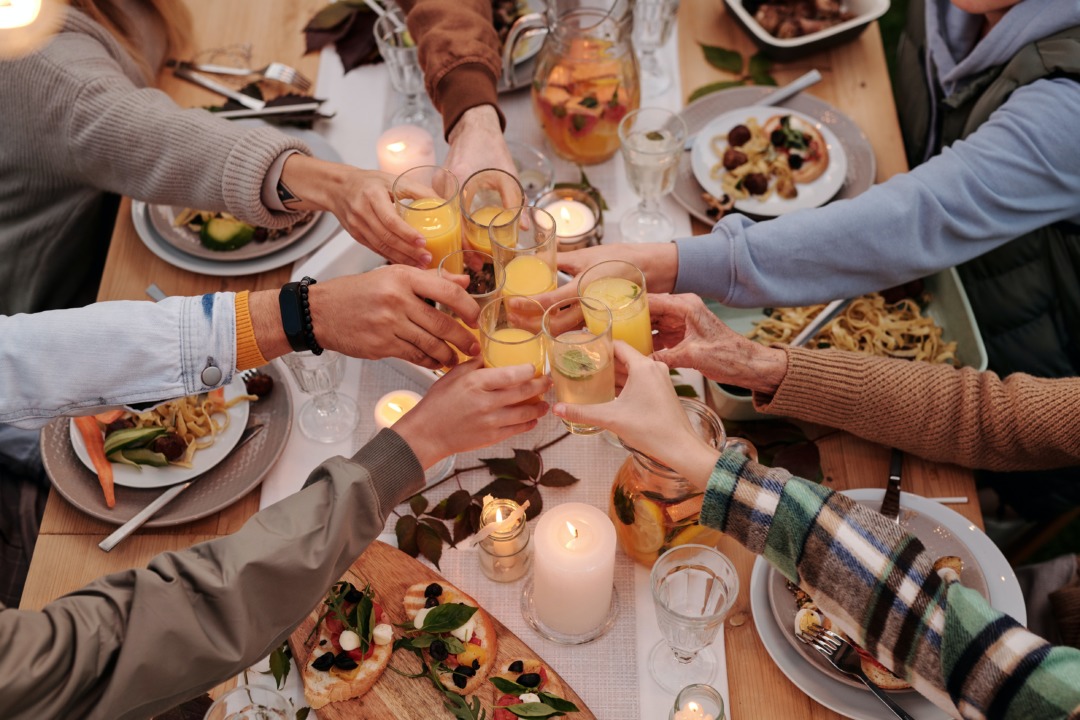 Going Alcohol-Free Does Not Mean Making a Sacrifice 
Making the decision not to drink alcohol, either for a night or as a lifestyle choice, is a highly personal decision. The great news is that with a well-stocked alcohol-free cocktail bar, you and your guests don't need to feel like removing alcohol is a sacrifice. Everyone can still be part of the festive party environment and toast with an amazing cocktail of their own. 
Connecting with others who are navigating sobriety or moderation is a great way to learn more alcohol-free beverages and activity ideas, and get support along your journey. You can join Monument and connect with others in therapist-moderated alcohol support groups, and our 24/7 anonymous community forum. We're in this together.
Sources: 
Feeding Trends. "

32 Types of Mocktails for Those Who Love Non Alcoholic Drinks

, https://feedingtrends.com/types-of-mocktails." Accessed Jun. 10, 2022. 

Cleveland Clinic. "

3 Health Benefits of Apple Cider Vinegar (ACV)

, https://health.clevelandclinic.org/exploring-the-health-benefits-of-apple-cider-vinegar/."  Accessed Jun. 10, 2022. 
Disclaimer: Our articles and resources do not constitute clinical or licensed therapy or other health care services. If you need counseling or therapy services please contact a licensed provider. If this is a medical emergency, call 911.