For many folks—whether they're sober, sober-curious, or just looking to drink less—the thought of making new friends without involving alcohol triggers social anxiety. The thought alone can feel overwhelming and even impossible. 
"Most of my friends get together for drinks once a week," says Megan from Ft. Worth, Texas, "We catch up on each others' lives over pitchers of margaritas or buckets of beers. I don't even know how to connect with my existing friends without drinking, let alone make new friends without drinking." 
Megan is not alone. Alcohol is so ingrained in our culture that anyone who decides to stop drinking is considered the weird one. Why is it that when someone decides to stop drinking socially they're often met with, "What! Why?!" instead of "Sounds good! Let me know how I can support you."
I, too, feared how my social circle and prospective partners would perceive me if I didn't drink alcohol. A lot of this anxiety was tied to the cultural narrative that alcohol and fun are inextricably linked. My friendships were formed while working in bars and solidified over drunken heart-to-hearts. Any life experience was cause for a drink, whether it be a celebratory champagne toast or a heartbroken shot of whiskey. 
Humans Evolve and So Do Our Relationships
To oversimplify a complicated topic: friendships change. They always have and they always will—whether alcohol is involved or not. Relationships evolve because we, as humans, inherently evolve. We move locations geographically, our interests or hobbies change, and we sometimes just lose touch with one another.
We naturally gravitate toward people with shared interests. If you read a lot, you may have friends in a book club. If you run, you may be part of a running group. If you drink, you most likely have friends that drink, too.
Perhaps looking at this more as a natural and totally common evolutionary change can soften the blow. 
How Our Relationships Change When We Stop Drinking
Think about a 7th-grade soccer player who used to love choir in 6th grade. They no longer hang around the choir room because their new interest has them on the soccer field. Now apply this same logic to alcohol: someone who's newly sober may not hang around their local watering hole because their friends are in a support group, yoga class, or a community that's centered around a newfound hobby. This viewpoint helps us see that like anything else in life, friendships are subject to evolve as well. 
"When people make the decision to stop drinking, they begin to see how many of their connections revolve around alcohol," says Lynn Macarin-Mara, LCSW, "Some friends will be open and accepting of this shift while others will try to seduce you back into drinking. They may try to make you feel guilty, shaming you back into the drinking world."
I experienced this time and time again when I tried to quit drinking while still bartending and spending time with people who partied. When I told friends that I wanted to drink less, they always offered up a reason for why now wasn't a good time to cut back. I had used these same tactics when friends told me they wanted to drink less, too. Our intentions were never nefarious, but more rooted in our own insecurities. I didn't have the language at that time, but I do now: If so and so thinks she drinks too much, then that means I probably drink too much since we drink the same amount. 
So remember if someone isn't supportive of your sobriety or moderation goal, it's likely more about their own relationship with alcohol than you.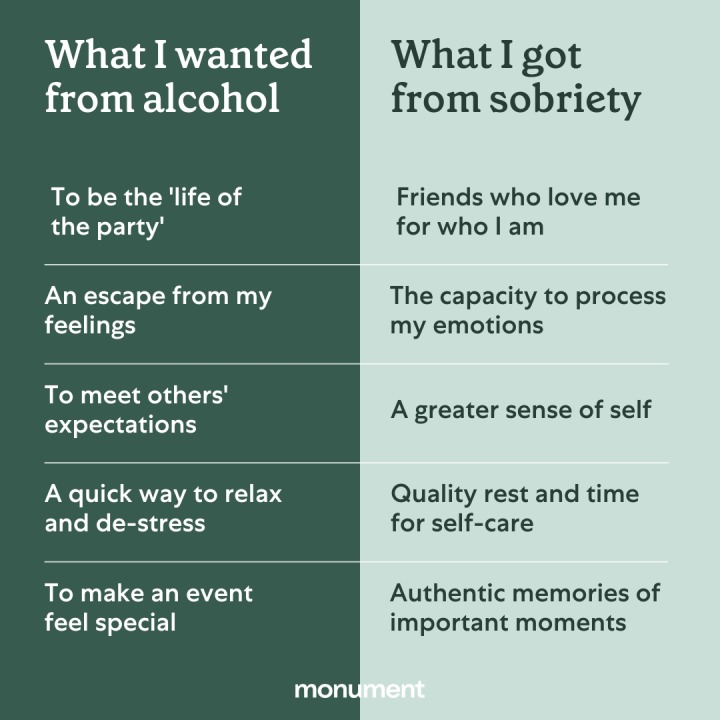 Sometimes Relationships Change—Or End—For the Better
Our sobriety is often a mirror to others, whether we realize it or not. Some of my friendships ended because I stopped drinking, but I don't think of it as a loss. I think of it as realizing who my true friends are. I can still have fond memories of partying with drinking buddies even though I no longer drink or hang out with that group anymore. Likewise, I can enjoy the people I have around now, who are a part of my life post-drinking. 
"Especially with the pandemic, people are re-evaluating relationships with alcohol and their priorities", Keegan Herring, LPC, and mindfulness-based therapist, "As you reduce your drinking, you quickly see what else you have in common, besides alcohol."
In short, sobriety has us searching for booze-free fulfillment in our relationships. 
"You can gain friendships in sobriety through meet-up groups", Herring continues, "Explore what you're already into, then see if there's a social network attached to it". Check out this article for tips on how to find friends in sobriety.
Today, various online forums, like the Monument community, are dedicated to sober living provide spaces for people to share their sobriety dates, ask for advice, chat about their favorite sober books (AKA #quitlit), and organize local meetups in their own towns.
Conclusion: Will I Lose Friends If I Quit Drinking?
So, will you lose all of your friends if you stop drinking? Who knows, but your friendships will definitely change. Maybe the question we should ask is "Which of my friendships are contingent upon my relationship with alcohol?"
A true friendship survives job changes, new hobbies, geography, fitness fads, and yes, even alcohol consumption. Your decision to drink less or not at all is something to be incredibly proud of. Your true friends will welcome this change for the better, and new friends will be excited to meet the authentic you.
Disclaimer: Our articles and resources do not constitute clinical or licensed therapy or other health care services. If you need counseling or therapy services please contact a licensed provider. If this is a medical emergency, call 911.