For those of us in recovery, there is an extra special quality about our friendships. Whether we found sobriety through online alcohol treatment or in-person care, navigating the world completely sober gives us access to intense, authentic feelings and openness to connection. I especially feel a kinship with others who are sober in a – I see you, you are recovering, doing the work, and continuing despite it all – kind of way. 
While I cherish the sober people in my life, most of my community is not sober or intentionally moderating. At the beginning of my recovery journey it was difficult to find the right support team. Some of my old friends at the time didn't understand or make room for the changes I was making. Attending therapy was a great gift to myself, where I learned how to notice patterns, set boundaries, and let go of relationships that weren't serving me. 
With over three years of sobriety now, I've been able to identify who really does nurture and celebrate my sobriety. These friendships bring richness and social support to my life that I wouldn't trade for anything. Through my personal recovery journey and having worked at a sober living facility and now Monument, I know the importance of community in recovery. I now have a refined radar for all of the great qualities that make for fulfilling and balanced relationships, which are the friendships we all deserve. These are the kinds of friends we need in recovery. 
I choose friends who…
1. Celebrate my sobriety 
I've celebrated my sober anniversary differently every year. In my first year as a newly sober individual, I wanted to bar-hop. (Check out my tips for sober partying!) My second year, I got taken out to a pasta-filled dinner. Last year, I was greeted with non-alcoholic champagne, zero-proof negronis, and went on a long, wonderful hike. Each year that I've celebrated, my loved ones have made the day special, and told me how proud they are of me. They are relentless in the best way: this is something to celebrate, whatever that looks like. My loved ones take my lead and remind me of a wonderful reality: my sobriety is a superpower. I deserve to feel that.
2. Make alcohol-free joy a priority 
My friends will look over menus before making a dinner reservation to see if they have a non-alcoholic beverage section. They will make sure there's a mix of fun alcohol alternatives at housewarming parties, so I don't have to worry about bringing my own seltzer (or lime wedges). If we're out to dinner, my friends always taste a sip of my alcohol-free cocktail (and it always tastes better than theirs). All of this is to say, my sobriety isn't an after-thought, but a bridge to joyful rituals we all get to embrace together.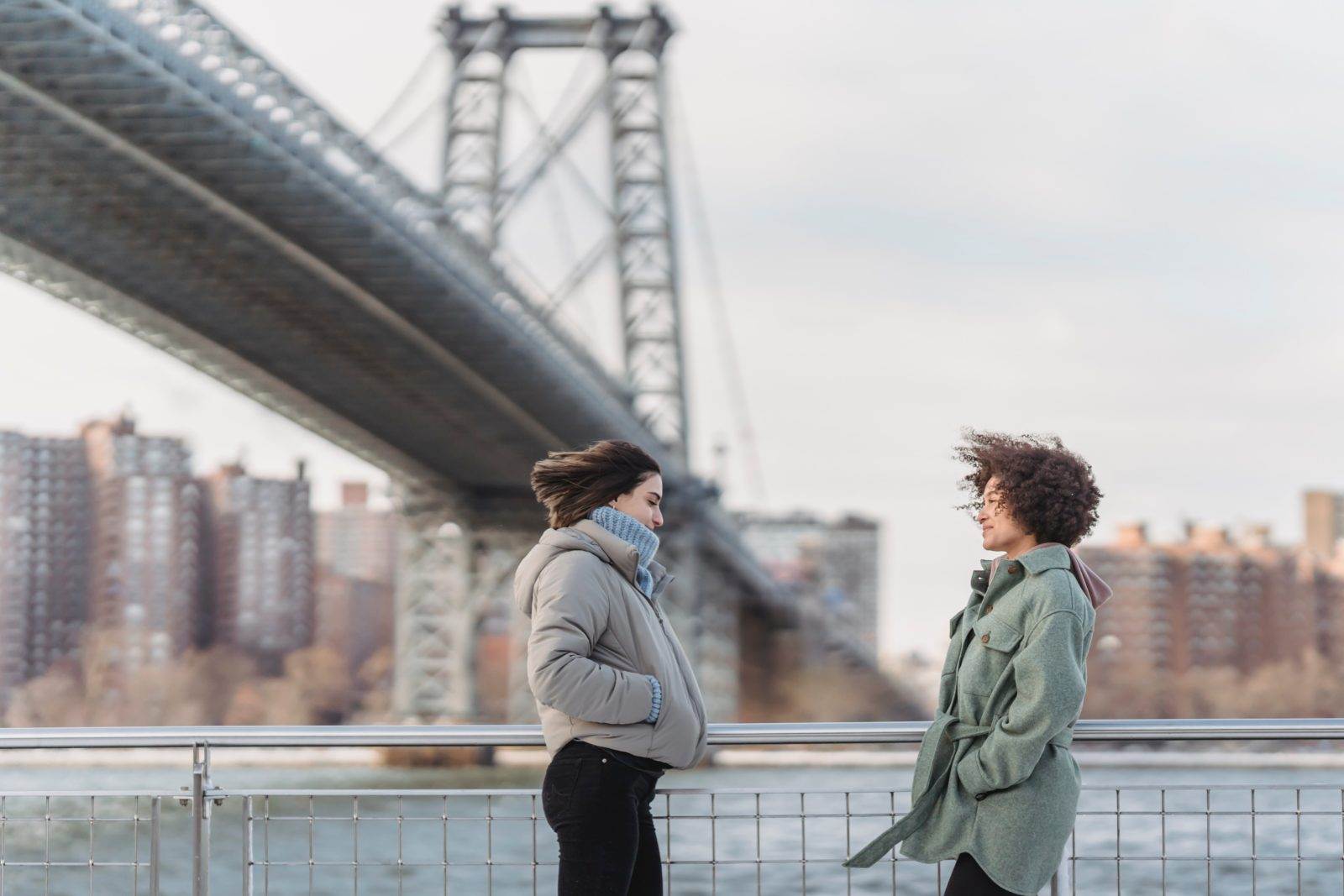 3. Are willing to have those DMCs
DMC (noun): Deep Meaningful Conversation. I've had many friends in the past who I wouldn't get real with. I used to spread my social energy far and wide (and thin!). Today, I like to preserve it so that I can actually show up for the relationships that fill me up. My friends now are unconditionally loving, emotionally intelligent, and know me for all of me. We laugh, but we can also have DMCs. They've put in the work to understand how to support someone in recovery. They know why I'm sober, and why it really, really matters. 
4. Will pull me out of the bar
I've asked myself with past friendships, if I were in a bar and ordered a drink — what would my old friends do? Let me be clear: friends are not responsible for whether or not I drink, or for identifying relapse triggers. What I mean is that friends shouldn't just respect that I'm sober, but respect my goals to keep it that way and maintain a sober lifestyle. If that means dragging me out of a bar, so be it. If that means the night is over, I'll thank them later. In the moments I do want to drink, a supportive friend will talk openly with me until I come to the answer myself: I don't want to drink alcohol. And they don't want me to either.
Addressing anxiety while managing your drinking
If you're feeling anxious, you are not alone. Anxiety and drinking are often interconnected. Join a candid conversation about building coping skills to address anxious feelings while navigating sobriety or moderation.
Check out the Schedule
You are taking a truly meaningful step toward a happier and healthier you. Your loved ones should recognize, uphold, and honor that. If you aren't finding enough support in your friendships or think you might have toxic friends, there are resources to help you find the support you deserve. 
In therapist-moderated alcohol support groups, you'll be greeted with an entire recovery community that shares similar experiences and wants to encourage you in your journey. In alcohol therapy, a specialized therapist can help you identify supportive relationships, and teach you other valuable tools to support your sobriety. 
The benefits of sobriety are plentiful, and meaningful healthy relationships are among the most rewarding. You may find friends in recovery in your hometown, or via a digital community like Monument. They may be a close-knit social circle, or a wide network across the country. However you find them: hold them close. A healthy friendship that supports you through your recovery journey can make all the difference.
Disclaimer: Our articles and resources do not constitute clinical or licensed therapy or other health care services. If you need counseling or therapy services please contact a licensed provider. If this is a medical emergency, call 911.