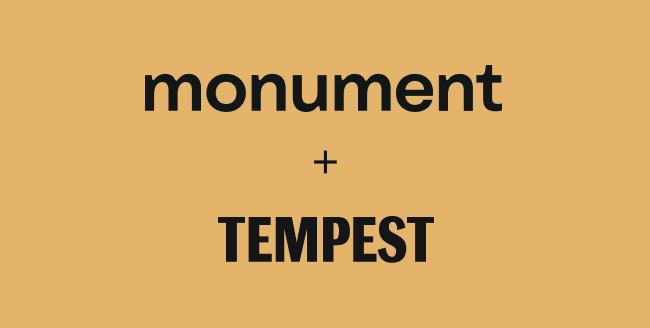 We are excited to announce that Tempest has been acquired by Monument. Tempest and Monument will be integrating services down the road to create a singular platform with the most robust recovery toolkit available. Both organizations were built to provide clinically-backed tools for anyone looking to redefine their relationship with alcohol, and together, our offering will be more holistic and wide-reaching. Monument and Tempest share core values of integrity, confidentiality, and person-centric care, which will continue to guide this next chapter.
As we work to thoughtfully integrate our two platforms, we're sharing answers to some of the questions you might have about what this means, and how we will continue to support both Tempest and Monument members.
Q: Who is Monument?
A: Monument is a telemedicine platform for anyone looking to change their relationship with alcohol. Monument connects people to evidence-based tools including  peer support, behavioral therapy, and medication-assisted treatment. Mike Russell founded Monument based on his own sobriety journey, and is working to increase access to and affordability of the treatment that worked for him, and many others. The combination of Monument's clinician-led care and Tempest's powerful community and content will provide our members with even more services to empower them on their recovery journey.
Q: Will Tempest and Monument's services remain separate?
A: Tempest and Monument will eventually be integrating services to create a singular platform with the most robust recovery toolkit available at joinmonument.com. In the meantime, you can still sign up for Tempest's monthly membership plan, or access the following evidence-based tools via Monument:
53 moderated support groups on a variety of topics
A free anonymous community forum
Medication assisted treatment with care from a licensed physician
Virtual therapy with a therapist specialized in treating substance use disorders
Monument and Tempest members will be the first to know when the combined service becomes available.
Q: How can I learn more about joining Monument?
A: You can explore your Monument care options here. Monument provides out-of-pocket pricing that's competitive with the cost of many mental health copays, and also accepts many major insurance providers, and HSA/FSA. You can check your insurance eligibility here.
Q: How will I know when Monument and Tempest services merge?
Tempest and Monument members will be the first to access the combined services. You can stay tuned by signing up for our newsletter.
Q: Who can I contact if I have questions about all of this?
If you have any questions about Monument's services, please email support@joinmonument.com. For questions about Tempest membership, please email support@jointempest.com