Important Note: Some non-alcoholic beverages may contain very small amounts of alcohol (less than 0.5% ABV), in addition to caffeine and other botanicals. Consult your doctor before consuming if you are pregnant, breastfeeding, or may become pregnant; looking to conceive; have high or low blood pressure; a medical condition; or are taking any medication.
Celebrations often call for food and drink to achieve a festive feeling. Whether it's acknowledging another trip around the sun, a long-deserved promotion, or simply getting to the end of another jam-packed work week, raising a glass to mark the occasion can seem like the natural thing to do.
However, when you break down what makes celebratory rituals so impactful, it's about the intention of the moment and taking a pause to solidify its meaning. The core emotions surrounding celebrations are often happiness, contentment, pride, and satisfaction. Exploring how to experience these same feelings without alcohol allows you to create new celebratory rituals.
Spoiler alert: removing alcohol consumption from the equation can make for even more authentic joy.
What Are The Benefits of Drinking Alcohol Alternatives?
Unhealthy alcohol consumption affects all dimensions of our wellbeing. From short-term effects like hangovers, headaches, and 'hangxiety', to long-term effects like financial instability, strained relationships, and intensified anxiety, alcohol can take a toll on our physical and mental health. For some, it can also be an indicator of alcohol use disorder, a medical condition characterized by drinking more than you want despite walking to cut down.
If you're asking yourself, "should I stop drinking alcohol?," that's an act of self-care. One way to start experiencing the benefits of sobriety or moderation is by introducing alcohol alternatives into your daily life. Alcohol alternatives can provide complex flavors and festive energy without sacrificing your health.
What Should You Drink Instead of Alcohol?
Alcohol alternatives can be an effective (and fun!) tool for honoring your boundaries when drinking in moderation or practicing sobriety. Here are some of our favorite options that are full of flavor and free of alcohol.
Sparkling juices

Kombucha

Alcohol-free wine

Alcohol-free beer

Alcohol-free cocktails (

formerly known as mocktails

)
With so many healthy alternatives to alcohol, creating new celebratory rituals is made easier with drinks that are complex, festive, and delicious. Read on to learn why we love these alcohol alternatives.
1. Sparkling Juice to Toast the Start of the Weekend
Sparkling juice offers the same bubbly fizz of sparkling wine but without the alcohol content. As one of the top alcohol replacement drinks, sparkling juice's packaging and presentation embraces a celebratory mood.
Perhaps you'll find that sparkling white grape juice is a great way to end the week instead of using booze to welcome the upcoming weekend. Pull out your drinking flutes and add a few berries to the bottom of each glass to make this healthy alternative feel extra festive.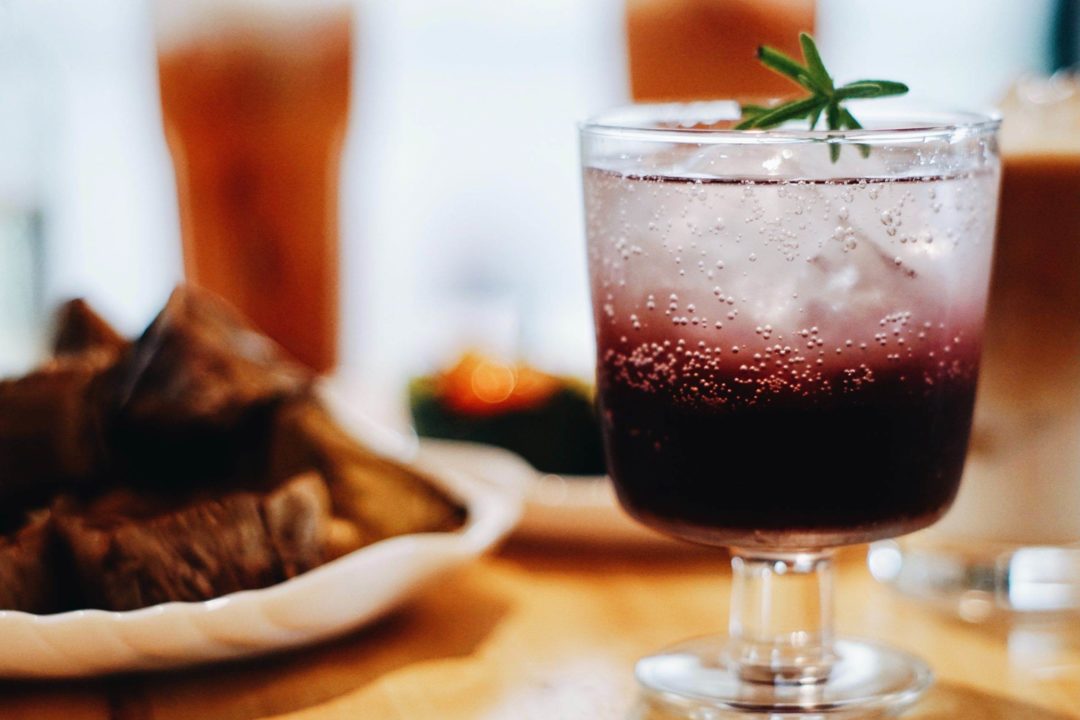 Celebrating With Friends
Call your friends over for a potluck-style snack spread complete with a well-curated charcuterie board and other low-maintenance yet comforting foods, all paired with your sparkling fruit juice flavor of choice.
Ending the Week With a Self-Care Routine
Alternatively, schedule some quiet time and toast another Friday in the books by pampering yourself, one of our favorite things to do instead of drinking. Start with a glass of sparkling cranberry juice and settle in for an evening of self-care. Whether that includes running a hot bath or sitting down to watch the latest show on Netflix, cheers to the end of the week and a couple of days off from the regular grind.
Finding a balance between being in the company of others and unwinding with ample solo time is what keeps our connections with others strong. The food and beverages you choose are secondary to how it feels to ease the tension of the week and float into the weekend feeling relaxed.
2. Kombucha to Reward a Fitness Goal
Kombucha is a fermented tea drink that has become one of the trendiest alcohol alternative beverages, known for its unique flavor and health benefits. Experts say it helps rid the body of toxins and works as an energy boost. Those reasons alone are enough to celebrate. The tangy tartness of kombucha tastes like an amped-up cider or lemonade, and there's plenty of flavors to choose from when you're ready to reward a job well done.
Keep with the healthy spirit of drinking kombucha, and use it to celebrate a health goal you've recently achieved. Mark the accomplishment of:
An intensive hike

A rigorous bike workout

Reaching a higher level of fitness 
As you create healthy habits and goals with fitness, reward yourself and honor your body in a tasty way by drinking in the goodness of kombucha.
The simplicity of swapping your go-to alcoholic drink for something else can actually enhance your happiness. Although daily routines are comforting, a wider array of experiences are associated with greater brain activity. Stimulating your senses with a new hiking destination or exercise routine and pairing it with kombucha can be a new kind of ritual that increases your level of satisfaction.
3. Alcohol-Free Wine to Cheers a Special Occasion
Raising a glass of wine in honor of a birthday, wedding, or other special occasion is common, but the joyful spirit feels just as good with alcohol-free wine. Wine enthusiasts focus on the tasting notes of their favorite wines. Serving wine sans alcohol still has the same flavors and aromas, whether you're pairing an alcohol-free wine with a fancy dinner or hosting a wine tasting.
Many of the top winemakers have begun offering non-alcoholic alternatives of their top wines, made from the same grapes to achieve the same quality as their alcohol-based wines. Alcohol-free wine also has more nuanced flavors than sparkling grape juice.
Wind down with an alcohol-free white wine, such as syrah or chardonnay, by a brand you already love. It may quickly become one of your go-to healthy alternatives to an alcoholic beverage, especially when you use it for sangria and add all your favorite seasonal fruits.
Other ways to enjoy it are:
Freezing it into popsicles or making slushies to take to the pool in summer 

Heating it up with cinnamon and other warming spices for mulled wine in the colder months 
Alcohol-free wine can be enjoyed in multiple ways and dressed up to fit the occasion. When ushering in a new season, start a celebratory ritual with a seasonal beverage.
Attend Monument's online alcohol support groups to hear what's worked for others as they navigate the alcohol recovery timeline.
Turning a sobriety challenge into a lifestyle
Have you experimented with sobriety, and are interested in continuing to reap the benefits of drinking less? Join the discussion about building upon what's working & creating sustainable changes that align with your goals and aspirations.
Check out the Schedule
3. Alcohol-Free Beer for a Monthly Happy Hour Get Together
Happy hour was designed to take a break from the workweek and catch up with friends and colleagues. As with winemakers, brewers are getting creative with their flavor profiles as they create inventive, non-alcoholic beers. The packaging, aromas, and tastes are largely the same without feeling the fullness and negative side effects of drinking alcohol.
Rather than gathering at a local bar for beers or meeting online for a weekly Zoom happy hour, why not take the adventure outdoors? Get out of work mode entirely by setting up a park picnic complete with yard games and good eats. Keep a cooler of alcohol-free beer and other non-alcoholic drink alternatives to let people grab and go as they please. Going alcohol-free means you're not limited to the places you can meet up. (However, many bars are now serving alcohol-free options, too!)
Alcohol-free beer is also a great alternative for times and places when beer always seems to make an appearance. These occasions often include:
St. Patrick's Day 

Opening Day of baseball

Lazy days spent at the lake or poolside
Even if alcohol is no longer a part of your life, you don't have to forgo the ritual of these celebrations. With the number of alcohol-free alternatives available today, it's easy to find a taste for everyone without missing the camaraderie and feel-good festivities that each of these occasions brings.
5. Signature Alcohol-Free Cocktails for Every Season
Everyone has their signature alcohol-free cocktail based on their preferred taste, but part of a ritual involves the presentation. The addition of a paper umbrella instantly makes it feel more vacation-worthy, and a colorful drink always feels like a good time. Shake up a few alcohol-free cocktails, formerly known as mocktails (see: The Monument Glossary), as a way to invite a sense of fun and relaxation. There are plenty of perfect pairings to enjoy throughout the year.
Sweet & Tangy for Summer Days
The warm temperature and sunny days of summer call for a refreshing drink with plenty of citrus to brighten things up. The Curious Lavender Lemonade from our Delish AF recipe book mixes lemon and fresh mint with three different types of tea to create a take on an Arnold Palmer. It's a super sippable concoction, perfect for sitting poolside or on your back deck.
Cozy Concoctions for Colder Months
For a drink to warm the insides in the fall and winter months, nothing's quite as cozy as cranberry apple cider. Although the original Delish AF recipe recommends serving it chilled, the flavors taste like fall and make for a delicious cocktail for when the evenings turn colder.
Light & Refreshing for the Spring Season
Then again, there's nothing like the classics to invite the revitalizing feeling of spring. Indulge in a classic gin and tonic, or get fancy with a Negroni by using alcohol-free spirits for your drink of choice.
Rely on your inner creativity by mixing up different ingredients and flavors to make your own signature concoctions. Whether you use alcohol-free spirits as your base or develop flavors through a mixture of teas and juices, you'd be amazed at the number of variations you can come up with. Set up your own bar cart complete with alcohol-free alternatives, and shake up a craft cocktail whenever the mood strikes.
Honoring All the Special Occasions Alcohol-Free
Feeling and spreading happiness is all about the details. The people, place, and attention to detail are all what makes a moment feel special. Although food, drinks, and decor are often associated with celebratory rituals, drinking alcohol is not a must-have to equal a good time. The idea is to create connections and share laughs, possibly with a few well-chosen eats and sips along the way. That ambiance is easily created with any of these alcohol-free alternatives.
As you change your relationship with alcohol, it also gives you the opportunity to change how you celebrate special occasions. Turn your focus inward to how you want to feel and imagine your ideal environment. These alcohol alternatives can open your world to endless options as you decide what moderation looks like to you or what sobriety means for you. There's no reason life should stop while you make progress through online alcohol treatment. Continue celebrating and exploring ways to turn traditional rituals into moments that feel attainable and authentic. 
For more of our favorite alcohol-free drinks, check out these Delicious AF recipes in our digital drink book free of booze! 
If you have any hesitation about trying alcohol-free cocktails, know that there is no rush, and you can save this resource for a later date when you are ready to experiment with alternative celebratory rituals. At Monument, we'll be here to celebrate and support you on your journey. 
Disclaimer: Our articles and resources do not constitute clinical or licensed therapy or other health care services. If you need counseling or therapy services please contact a licensed provider. If this is a medical emergency, call 911.
Sources:
Nature Neuroscience. "Association between real-world experiential diversity and positive affect relates to hippocampal–striatal functional connectivity, https://www.nature.com/articles/s41593-020-0636-4." Accessed Mar. 1, 2021.
Important Note: Some Delish AF recipes include beverages that may contain very small amounts of alcohol (less than 0.5% ABV), in addition to caffeine and other botanicals. Consult your doctor before consuming if you are pregnant, breastfeeding, or may become pregnant; looking to conceive; have high or low blood pressure; a medical condition; or are taking any medication.