For many, summertime might seem like the season synonymous with alcohol. This can be particularly challenging for those who are actively questioning their relationship with alcohol. 
No matter where you are on your evaluation journey—from just starting to look at your relationship with alcohol to having long-term sobriety—the hotter months and holidays have the potential to be one big trigger. 
The Fourth of July is a holiday associated with heavy drinking, which might make you feel a little apprehensive about celebrating. You might be wondering if you should sit this one out. You might be running through different ways to cancel plans for gatherings you just aren't comfortable attending. You might be feeling bummed at the thought of missing out on the festivities.

Best Ways to Celebrate the 4th of July Without Alcohol
The good news is that with some planning and resources, you can celebrate the holiday without alcohol. And if skipping big events is what's best for you, that's totally okay too. We've come up with a few ideas to ensure your Independence Day is both enjoyable and sober.
1. Surround Yourself with Supportive People
A support system is a crucial piece in a strong recovery. The people who are in your corner and going to support a holiday celebration that makes you comfortable. Whether it's family and longtime friends or some new sober buddies, make plans with the people who have been there for you on this journey. 
You don't have to avoid social situations where others are drinking as long as you are feeling ok about it, and as long as these environments are safe for you—meaning people aren't pressuring you to drink. If you're feeling apprehensive about going to an event where there will be drinking, opt to see if a supportive person within your circle is available to go with you. It could also be helpful to call a sober buddy before and after the event, so you know someone has your back. You can also make plans with a friend instead of attending.  
Wherever you decide to go, remember that you have the option to leave the festivities any time you feel uncomfortable. So if that means ditching the fireworks to head home and decompress, do what you need to do to feel okay.

2. Take Care of Your Body
It may sound obvious, but sometimes when we're excited about a holiday we can overlook the most basic forms of self-care. Make sure to cover the necessities: stay hydrated, eat enough nourishing food, and adequately protect yourself from the heat and sun. If you're dehydrated, hungry, or have been in the sun too long, your mood might be affected. You might start feeling physically or mentally uncomfortable, which can sometimes be a trigger to drink. Take care of your body and mind beforehand to put yourself in the best position to enjoy the holiday.
If you're spending time away from home, it's also a good idea to bring your own favorite non-alcoholic beverage. That way you know for sure you'll have safe, tasty things to drink wherever you're headed. Don't forget to save room for whatever red, white, and blue desserts are available!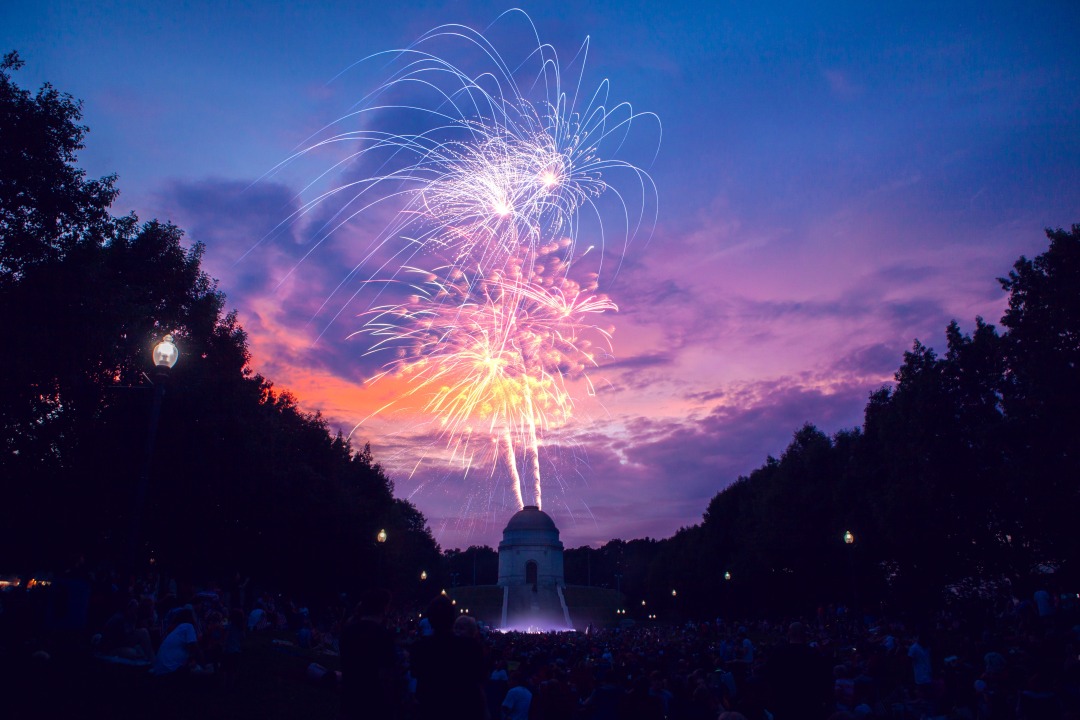 3. Rewrite Your Own Personal History
Historical holidays can give us the opportunity to reflect on our own personal stories. If you've been stuck in a negative loop regarding your past, you can take this time to rethink how you're narrating your own history. 
Instead of recriminating yourself for your past mistakes, you can recognize that you were coping the best you could at the time. Guilt and shame around our pasts are a normal part of the recovery process, and it's also important to move past those feelings so we can continue to grow. 
And now that you are learning new ways to deal with life's many challenges without relying on alcohol, you're discovering all the things you are capable of in sobriety. When we look back at the past with the intent to understand and to give ourselves grace, we have the power to move forward in a new way. 
4. Give Back
Speaking of histories, if you are understandably conflicted by the U.S.'s racist history and ongoing oppression of the BIPOC and LGBTQIA+ communities, you can use this holiday as a motivation to give back. Whether that's through making a monetary donation to a charitable organization or by donating your time by volunteering, choosing to help others is a way to support your country in a compassionate way. 
Giving back is a great way to see how you want to get more involved in your community too, which is something that might be important to you now that your relationship with alcohol has changed. 
* * *
This Fourth of July, give yourself the opportunity to explore a new way to celebrate. Holidays might be anxiety-inducing if you're not drinking or don't want to drink, but they don't have to be. With a plan in place and some support, you can still celebrate holidays alcohol-free and have a good time.
Disclaimer: Our articles and resources do not constitute clinical or licensed therapy or other health care services. If you need counseling or therapy services please contact a licensed provider. If this is a medical emergency, call 911.