If you are trying to quit drinking, certain days of the year when you used to drink heavily can be a trigger for old feelings and thoughts to arise. 
When it comes to the heavy drinking holidays like St. Patrick's Day, this can be especially difficult since everyone around you seems to be drinking, too. The way to conquer this holiday without drinking is to have a plan of what you're going to do instead. Exploring some alternative activities is a great way to still celebrate while avoiding triggers. 
Why Do People Drink on St. Patrick's Day?
St. Patrick's Day began as a day to honor the patron saint St. Patrick. The holiday falls within the Lenten period, where many Christian people give up drinking alcohol. Traditionally, any Lenten restrictions and rules around alcohol were lifted during this day and those celebrating were allowed to drink alcohol. While this is the original history of why people drink on St. Patrick's Day, over time the tradition has grown beyond Christian traditions and has become widely known as a commercialized day for drinking and partying.  
Ways to Celebrate St. Patrick's Day Sober
Just because St. Patrick's Day has become associated with drinking, doesn't mean you can't create new, alcohol-free traditions for yourself. As a reminder, it's always okay to skip these holidays entirely, especially in early sobriety. But if you're looking to celebrate, here are a few ways to have a sober St. Patrick's Day.
1. Throw Your Own Sober Celebration
Just because a lot of people may be celebrating this holiday with alcohol doesn't mean that this year can't be different. One of the best things about giving up alcohol is that it gives you the license to be creative and celebrate holidays in a new and interesting way. For St. Patrick's Day, why not throw your own alcohol-free party that focuses on celebrating the beauty of Irish culture instead? Invite your sober and sober curious friends to join you for an evening of listening to Irish music, watching an Irish movie, cooking your favorite Irish meal, or reading some Irish poetry together. 
2. Cook Your Favorite Themed Meal
Making your own Irish food is a festive way to celebrate St. Patrick's Day without an alcoholic beverage. You can cook homemade corned beef and cabbage for a traditional Irish meal or simply make something green colored to drink, like a green juice, shamrock shake, or even homemade ginger ale or ginger beer. Or you can simplify the whole thing and just make your favorite meal that you save for special occasions. 
3. Read Irish Literature
One of the best ways to celebrate St. Patrick's Day without a drink is to read some Irish literature. There is no shortage of great books to check out from the Emerald Isle. There are classics like James Joyce, Oscar Wilde, Edna O'Brien, Jonathan Swift, Elizabeth Bowen, Bram Stoker, and Samuel Beckett. If you're not sure where to start, you can try this list of books that helped define 21st Century Irish literature or this list of books every Irish American should read. And, of course, Sally Rooney's Normal People or Conversations With Friends are on the must-read list too. There are a lot of options here for you to simply spend March 17th curled up, under a blanket, with a good book.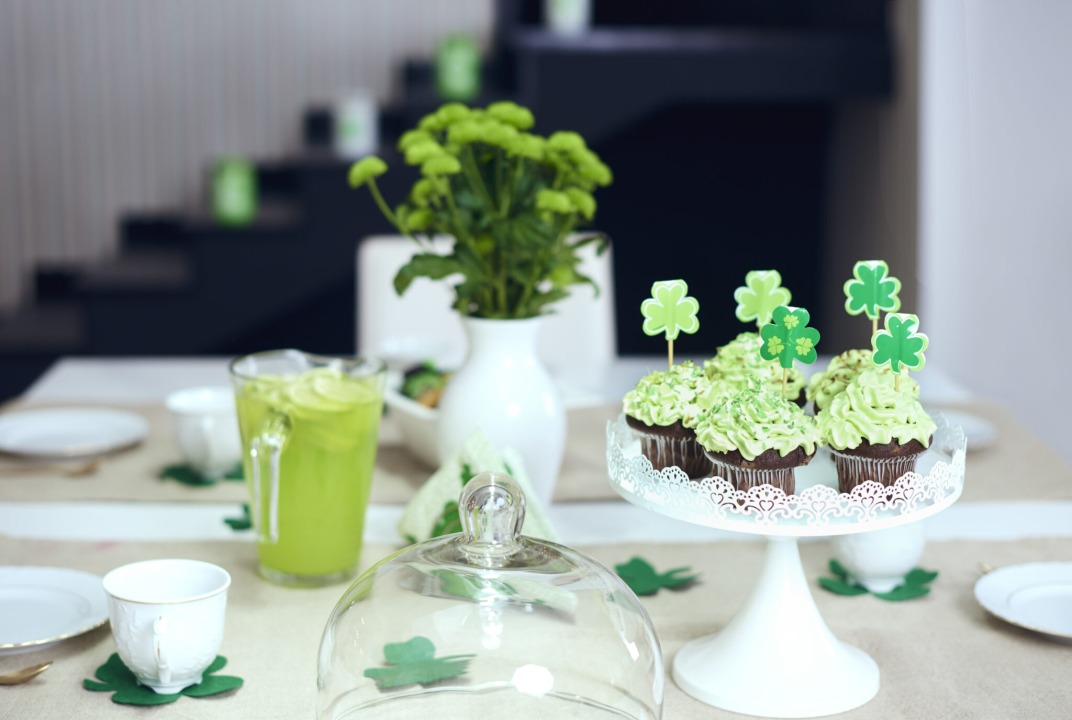 4. Journal About Gratitude
One thing that can really help when you are feeling triggered around drinking is to take some time to breathe deeply and sit down to journal. Practicing gratitude may seem a little bit cliche these days but research has shown over and over again that giving thanks can make you happier. Taking this time to journal about gratitude or make a gratitude list can help you deal with the difficult feelings that have come up during the day. For instance, you can write things like "I am grateful to not be spending money on alcohol today, I am grateful to not have to wake up with a hangover tomorrow, I am grateful to spend time with my family today." Or, for a twist on gratitude journaling, you can simply answer the question: "What will your future self thank you for doing today?" 
5. Listen to Irish Music
For many people, there is something really soothing about traditional Celtic music. For a nice evening at home without St. Patrick's Day craziness, why not indulge in Irish music? Of course, there is the famed band U2… but you can also listen to other favorites from Ireland, such as The Undertones, The Pogues, The Cranberries, Thin Lizzy, and Sinead O'Connor. 
6. Call Up a Sober Friend
Support is crucial to many people's recovery, especially strong friendships. A study even found that friendship is the most impactful type of social support in maintaining sobriety. So when you're feeling icky about March 17th and struggling to not drink, call up a sober friend. Call up any friend, in fact! Just make sure that it is a friend who is wholeheartedly in your corner about your desire to quit alcohol. Then, just chat away. It doesn't have to be about what triggered you (though it can be). It can just be a casual catch-up conversation so long as it accomplishes the task of keeping your mind off of drinking. 
7. Make Your Own Alcohol-Free Cocktail
Why not make yourself a non-alcoholic drink for St. Patrick's Day? You can buy non-alcoholic beer or other spirits or make your own alcohol-free cocktails at home. The alcohol-free beverage industry is booming and there are lots of options. Including alcohol-free cocktails in your sobriety journey is a personal choice. Many people find that sipping a non-alcoholic beverage can help soothe cravings and keep their hands full so that they don't reach for alcohol. Others find non-alcoholic drinks to be triggering. Just be sure to check in on how you are feeling and see what works best for you.  
8. Attend An Online Meeting
If you are feeling particularly triggered or overwhelmed by those who are drinking on St. Patrick's Day, try attending an online alcohol support group. Even if meetings are not a regular part of your sobriety, it's okay to get additional support when you need it. Connecting with other non-drinking folks in groups can be a good way to get support and see that you're not alone in this. You can also reconnect with your sobriety by listening to a recovery podcast or reading a recovery memoir. 
* * * 
Although there are plenty of options to have a sober St. Patrick's Day, we want to acknowledge that some people do slip and drink again. And that's okay. If you do slip up, it's important to work on forgiving yourself. It's true that self-forgiveness is not easy for many but it is something to strive for in the journey of recovery. Remember that all you need to do is the best you can. Every day is a new day to work towards your goal, and heavy drinking holidays offer the unique opportunity to strengthen our sobriety and resilience. 
With the ideas above, hopefully you can have a good day and still celebrate St. Patrick's Day without all of the usual hoopla that typically leads to massive hangovers the next day. If you want to feel grateful, think about the years past when you did wake up with a hangover on March 18th and how nice it will be not to do that this year. The community at Monument is here to support you.
Disclaimer: Our articles and resources do not constitute clinical or licensed therapy or other health care services. If you need counseling or therapy services please contact a licensed provider. If this is a medical emergency, call 911.