Every June, people gather in parades and events all around the country to celebrate their queerness. Unfortunately, for those who are on the path of sobriety or alcohol-free, those alcohol-centric celebrations can get a little trickier. (Especially if you're struggling with alcohol use disorder and seeing the myriad of rainbows plastered all over liquor companies' products.) But just because you're no longer drinking or trying to cut back, doesn't mean that you can't join in this month-long celebration of all things LGBTQIA+.

Best Ways to Celebrate Pride Without Alcohol
Read on for our four top pieces of advice on celebrating your queerness and your sober pride this month, and in all the months to come.
1. Come Out As Queer And Sober—If You Want 
Some people who drink do so in order to cope with complicated feelings about their gender identity or sexual orientation. That's why it can often happen that a person comes out as sober and queer at the same time. Sometimes, under the influence of alcohol, we cannot look internally long enough to realize that maybe the story we told ourselves isn't true anymore. 
So this year, celebrate Pride Month by coming out as both queer and sober… if you feel ready. For some, being open about our true selves is monumental to their recovery. But for others, it's not safe to come out as queer and their not ready to be vocal about our sobriety. And that's okay, too. How you share your story, and who you share it with, is up to you. But if you're ready, then now may be the time. Sharing your authentic self with the people you trust can open countless doors for support and celebration of the authentic person you are today. 
2. Understand The Impact of Alcohol on Mental Health
One of the most difficult parts of Pride Month is just how much liquor companies have taken over Pride events. This is a big problem considering that alcohol use disorder is more prevalent for LGBTQIA+ people. 
LGBTQIA+ individuals are 2.5 times more likely to experience substance use disorder compared to heterosexual individuals, according to a study by the American Psychiatric Association. In addition, a 2013 survey conducted by the U.S. Census Bureau found that a higher percentage of LGBTQIA+ adults between 18 and 64 reported past-year binge drinking (five or more drinks on a single occasion) than heterosexual adults.
But while Pride Month can be difficult for queer sober individuals, there are also several sober LGBTQIA+ resources that you can check out. Queer-specific resources, groups, and meet ups such as Q Center, Identity House, Trans Lifeline, The Trevor Project, and the National Queer and Trans Therapists of Color Network are all places where you can seek help and support if you need it during this month and throughout the year.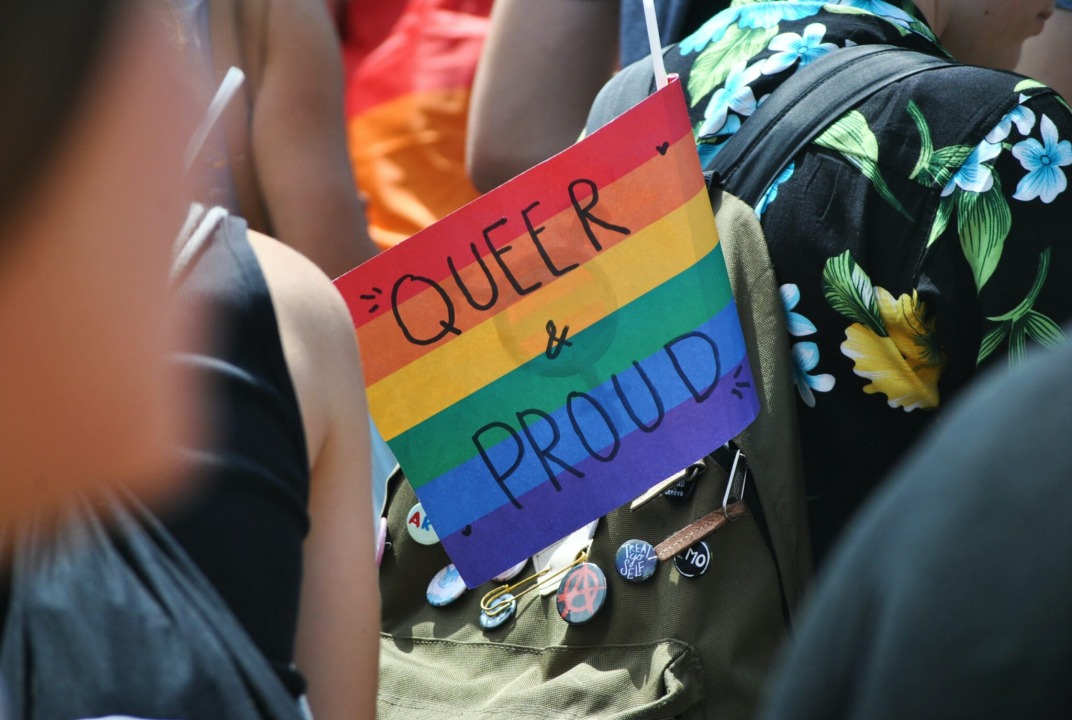 3. Embrace The Challenges and Joys Of Being a Queer Sober Person 
Being a queer sober person can be full of challenges (see above), but it can be full of plenty of joys, too. One of the things that can be a challenge is that LGBTQIA+ inclusion is not always available in recovery circles but, at the same time, finding the intersections between the queer and recovery community can be incredibly rewarding. And don't forget: Making recovery spaces more inclusive is a worthy endeavor, too. 
Finding and connecting with a queer sober community can be a huge part of your recovery and finding a support network. Sometimes those relationships are in real life and sometimes they're online. So if you're not sure where to start, then why not go ahead and follow some sober LGBTQIA+ folks on Instagram? Here are some accounts to get you started: 
@gayandsober 

@tawnymlara

@servedupsober 

@thesobergaypodcast
4. Enjoy Celebrating Pride While Sober
You can be queer and sober and still celebrate Pride. Whether that's by supporting queer artists, volunteering at a hotline, or dancing the night away with an alcohol-free cocktail, your options are unlimited. 
Just because you don't drink anymore doesn't mean that you can't be a part of the celebration. Do some research to see if there's a sober or family-friendly pride event in your area. Or, organize your own event with loved ones who will respect your choice to keep the gathering alcohol-free. Screen your favorite queer films, or head out to see a local queer musician, artist, or drag queen in a more low key setting. 
If you need a bit of extra support, you can attend a sober queer event or join a queer recovery community. On Monument, you can join a weekly LGBTQ+ alcohol support group specifically for individuals to get and give support to peers who are navigating similar challenges while changing their relationship with alcohol. 
* * * 
When it comes to celebrating Pride Month as a queer sober person, the good news is that you can most definitely do it without an ounce of alcohol. And while it may take some time, building a queer and sober support network can be an incredibly rewarding part of your journey. However you choose to celebrate this month, doing it sober gives you all the more to celebrate. You got this.
Disclaimer: Our articles and resources do not constitute clinical or licensed therapy or other health care services. If you need counseling or therapy services please contact a licensed provider. If this is a medical emergency, call 911.