When it comes to celebrating the Festival of Lights with your closest friends and family, nothing says "Happy Hanukkah!" like serving a fun new drink every single night. While Manischewitz wine is a classic Hanukkah beverage, it's a no-no for those of us who are not drinking this holiday season (not to mention the cousins, nieces, and nephews in the family who are all under 21).
Best Alcohol-Free Cocktails for Hanukkah
Whether you're digging into a plate of your bubbe's brisket or chomping on your third sufganiyot of the week, these easy Hanukkah alcohol-free cocktails will perfectly complement your meal and make this year's celebrations feel even more festive.
1. Ginger Ale Blueberry Spritzers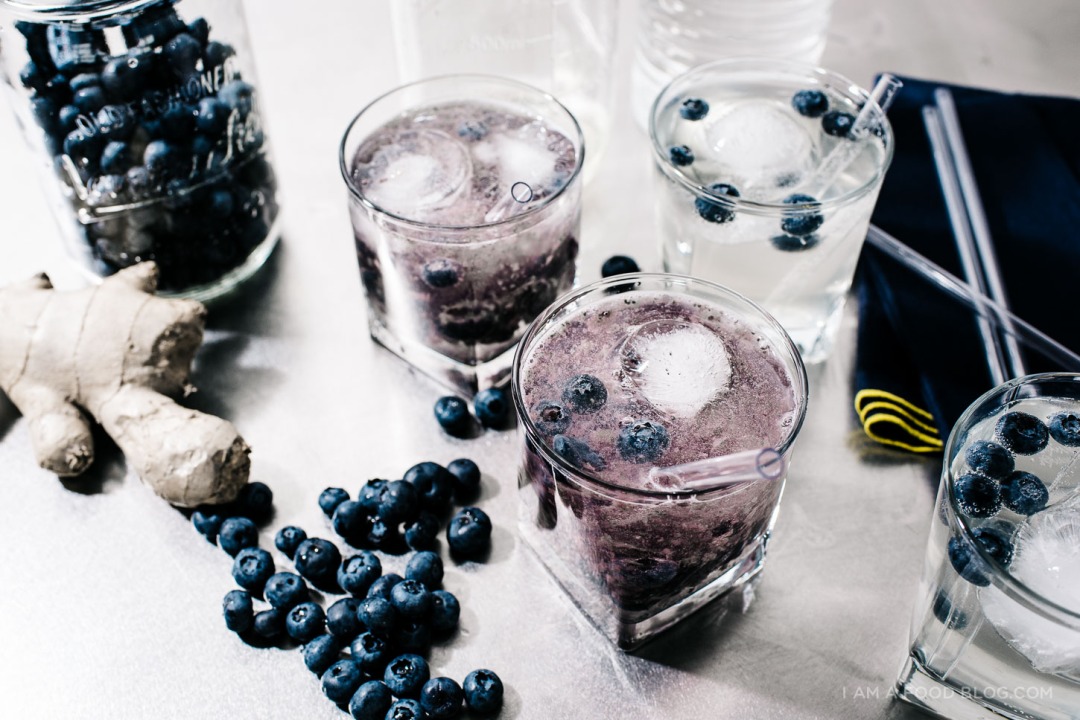 Image by I Am a Food Blog
There's no better way to kick off the Hanukkah festivities than with blue and white themed drinks. These ginger ale blueberry spritzers feature a homemade ginger ale base and fresh blueberries. For a stronger blueberry taste, crush the berries in the glass before pouring in the ginger ale. Wait to make these spritzers until just before your family arrives so they don't lose their bubbles.
2. Non-Alcoholic Sangria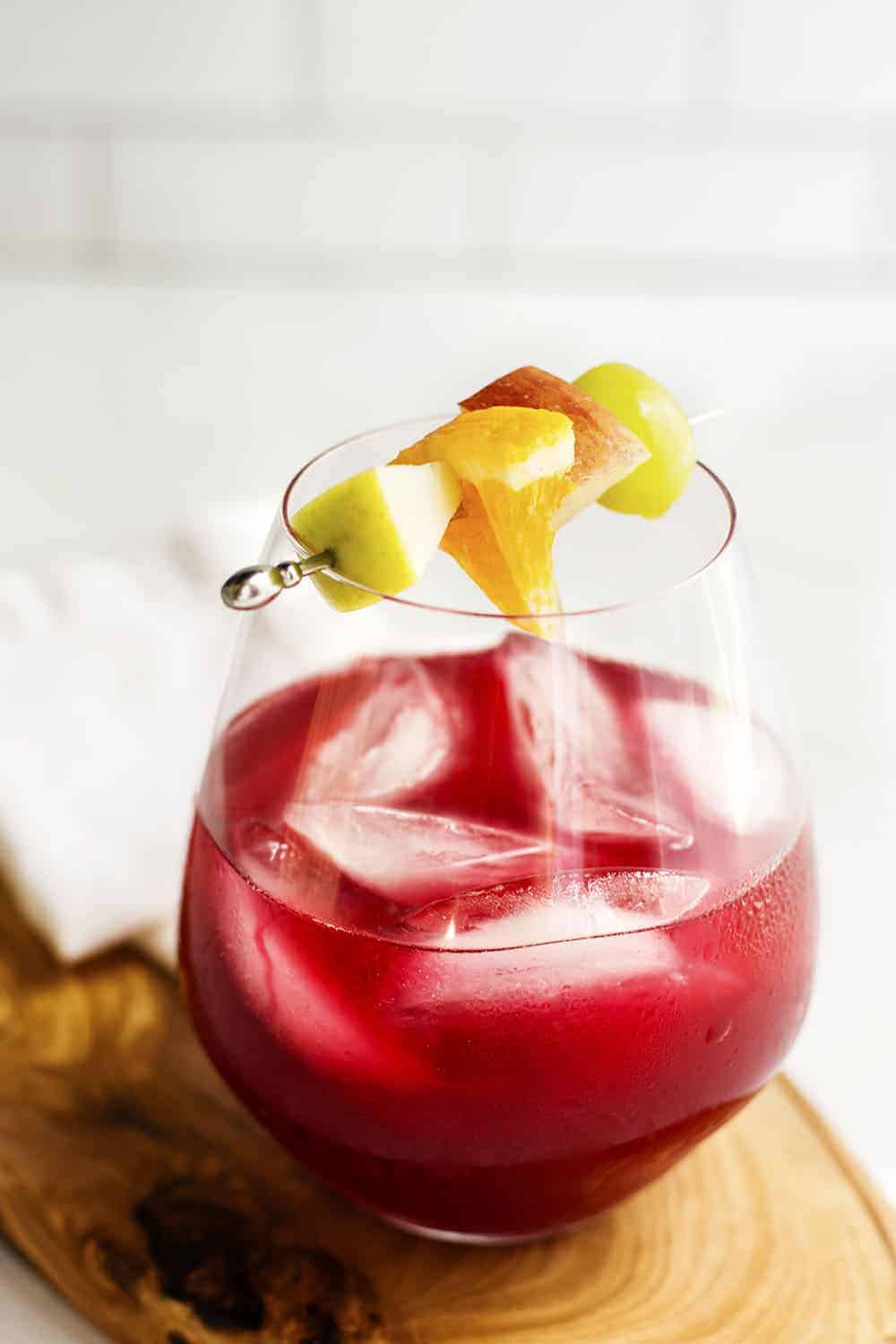 Image by A Couple Cooks
This year, ditch the Manischewitz and opt for a festive non-alcoholic sangria instead. This sangria recipe is made with hibiscus tea instead of grape juice, and it's naturally sweetened with honey. This drink requires a little planning, as it needs at least an hour in the fridge to give the flavors time to come together. The taste is worth the soak time, though!
Note that this recipe uses orange bitters—which contain very small amounts of alcohol—as a key ingredient. You can find non-alcoholic bitters online as an easy replacement!
3. Hanukkah Gelt Hot Chocolate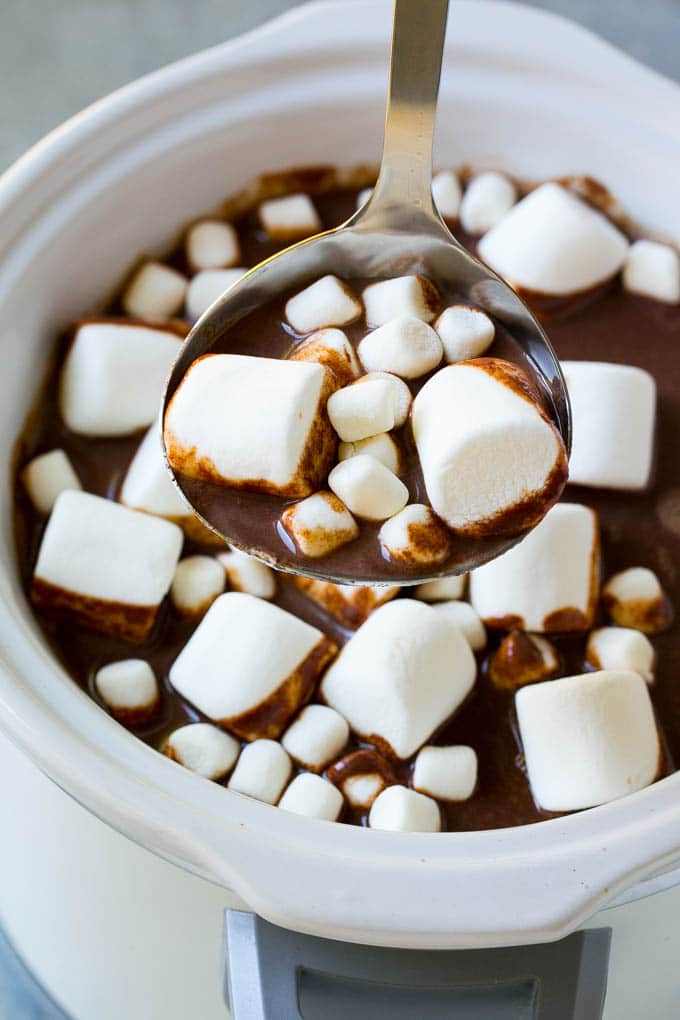 Image by Dinner At The Zoo
Take your chocolate gelt to the next level with this slow cooker hot chocolate. It's extra rich thanks to the two types of chocolate chips and cocoa powder used in this recipe. Shake things up by adding a few drops of peppermint or almond extract. And don't forget the marshmallows!
4. Hot Cranberry Apple Cider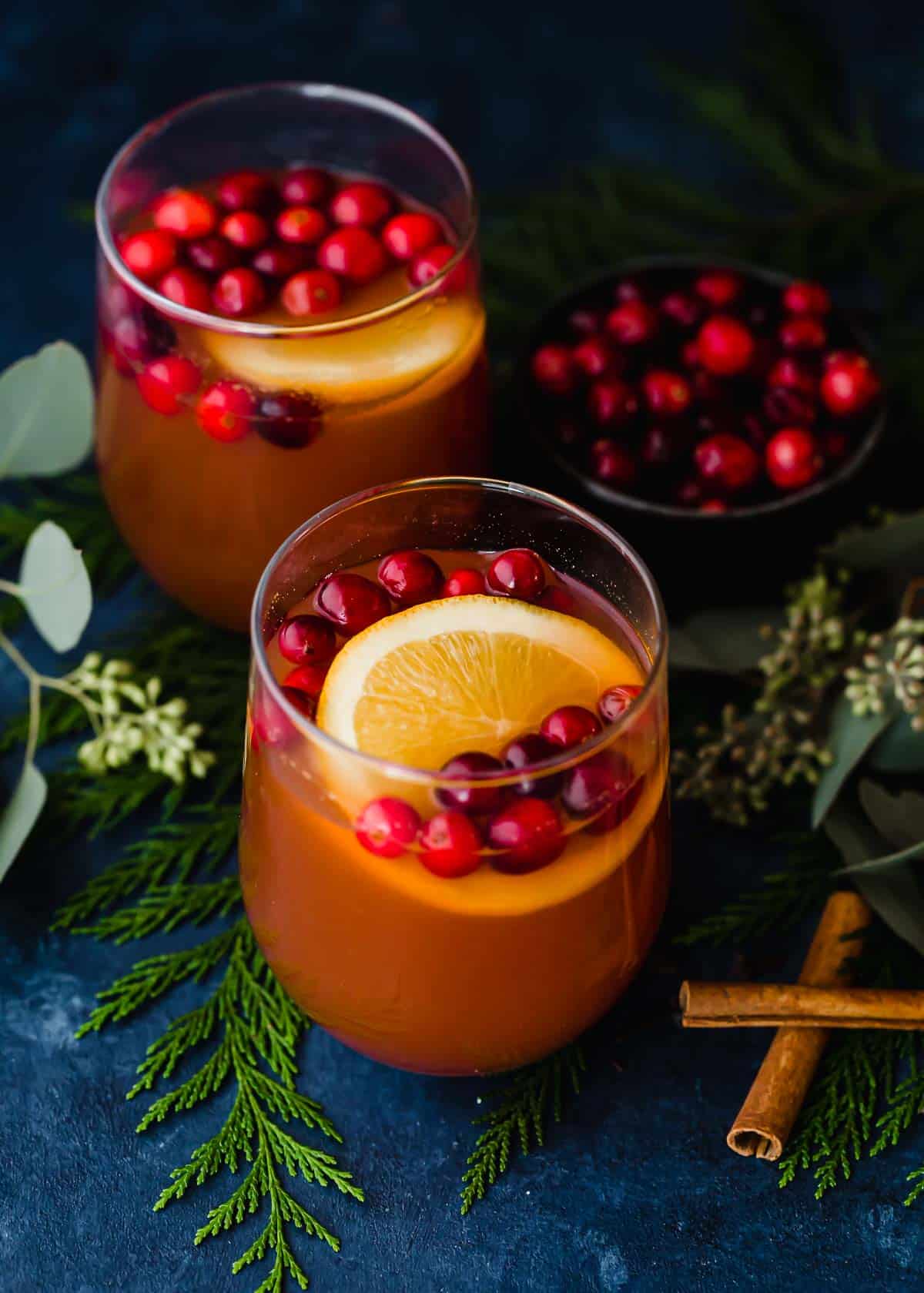 Image by Salt and Baker
This hot apple cider is ready in less than 20 minutes and is the perfect drink to sip on during chilly winter nights. Even better, this alcohol-free cocktail can be made with all store-bought ingredients; you simply have to dump everything into a saucepan and warm it up. Garnish your drinks with a cinnamon stick for an extra festive touch this Hanukkah.
5. Pomegranate Iced Tea Punch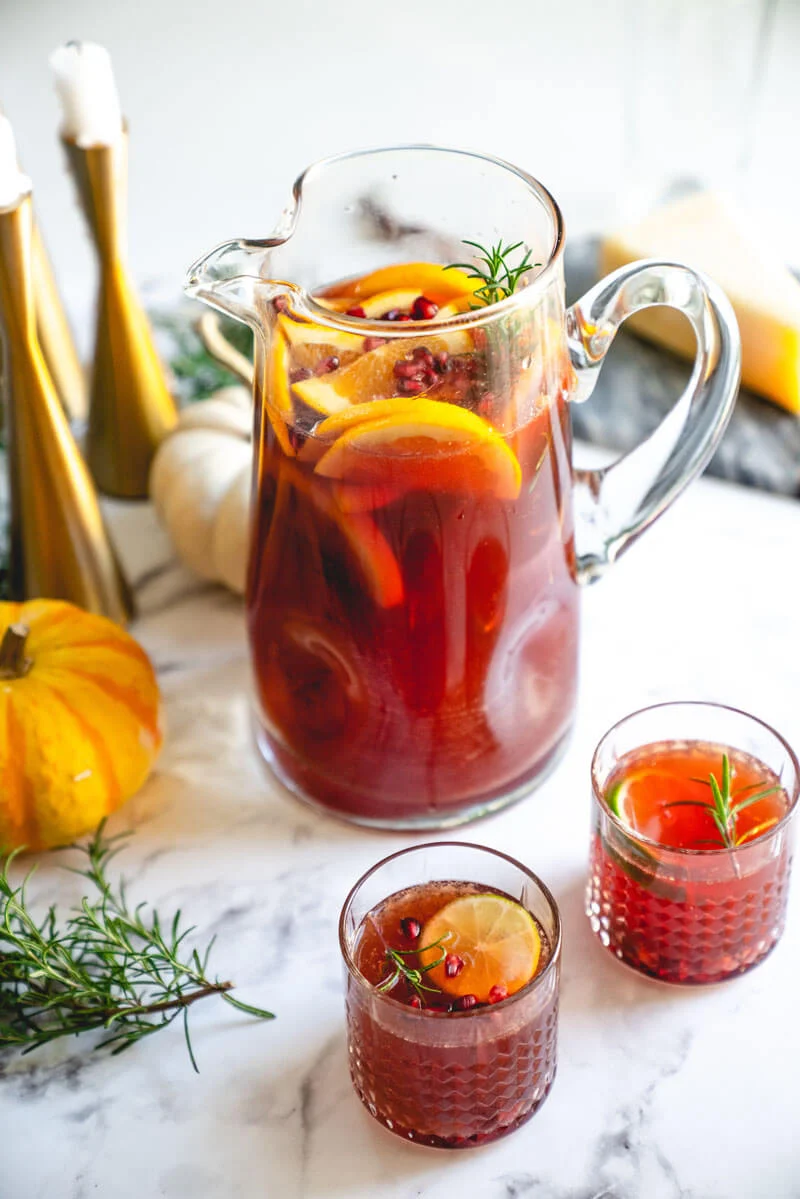 Image by A Couple Cooks
Did you really go to a family gathering if you didn't drink at least one glass of flavorful punch? This naturally sweetened punch combines unsweetened iced tea, tart pomegranate juice, orange and lime juice, and sparkling apple cider for an ultra-refreshing drink. Sip on this between bites of latke to cleanse your palate.
6. Blueberry Virgin Mojito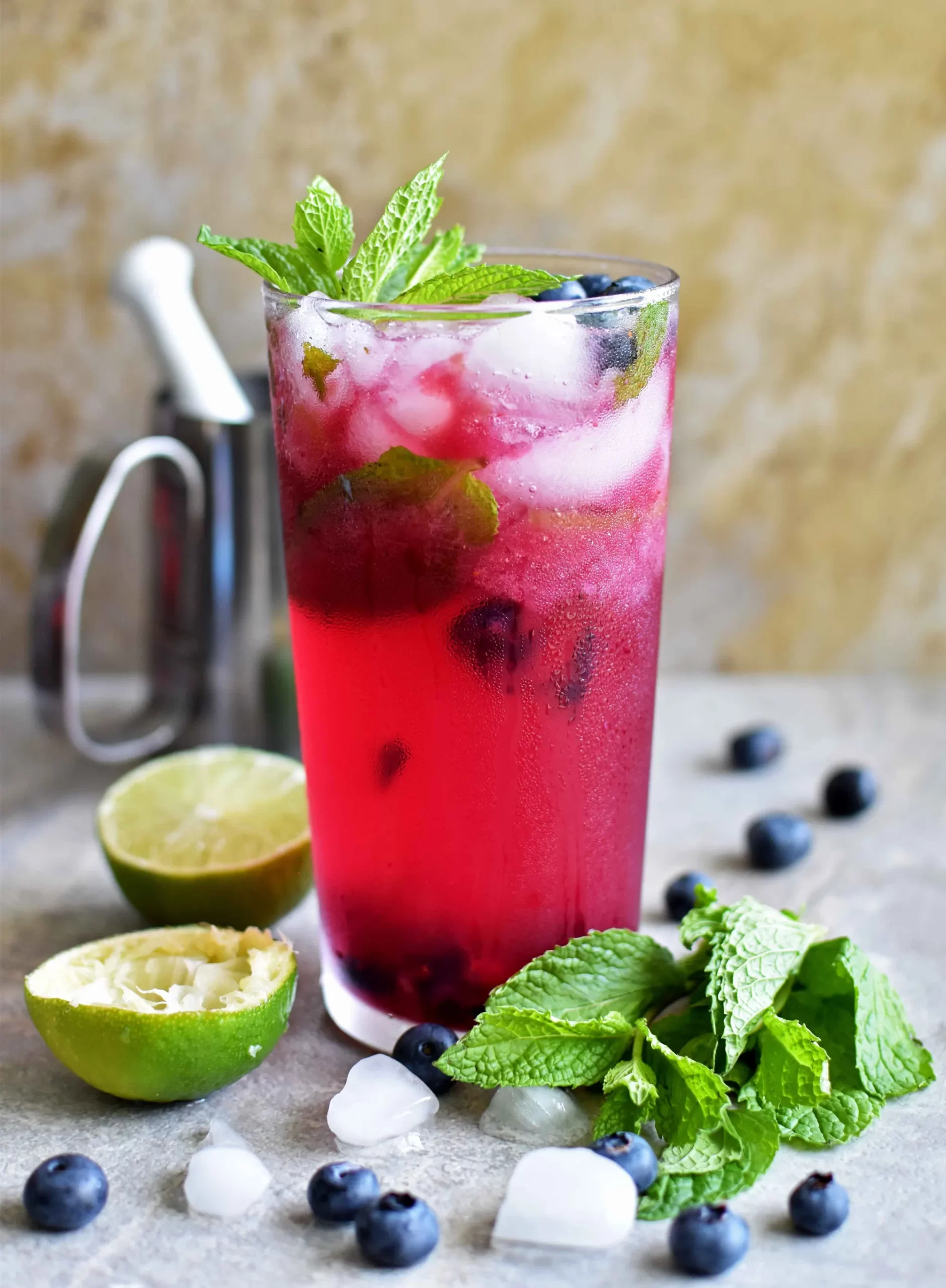 Image by Pepper Delight Blog
Is there such a thing as too many Hanukkah-themed drinks? I think not. This photogenic mojito is made sans alcohol and gets its vivid purple-blue shade from fresh muddled blueberries. In addition to blueberries, you'll need fresh mint leaves, sugar, bubbly water, and lime juice to make this alcohol-free beverage.
7. Virgin Apple Shrub Hot Toddy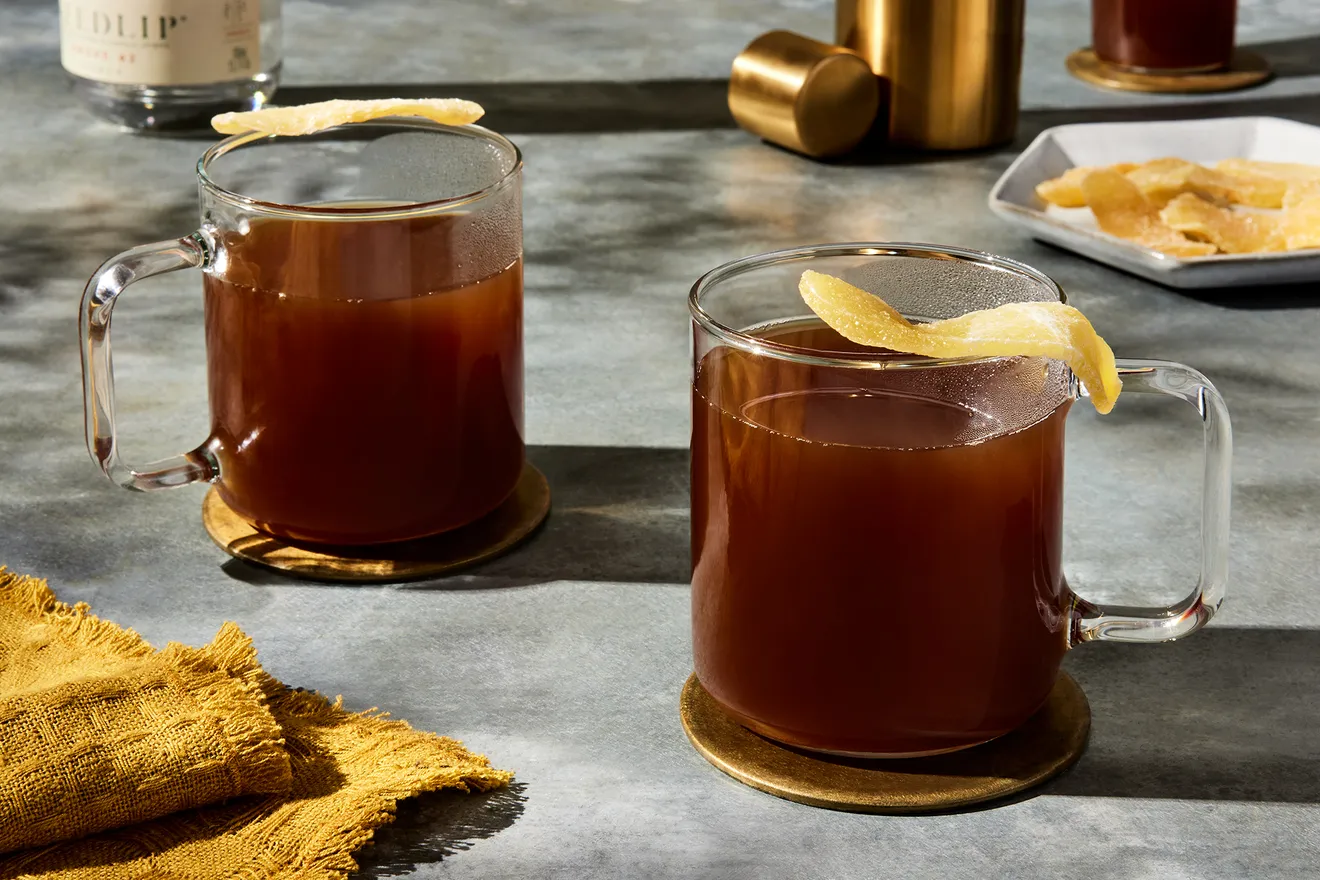 Image by Food52
Yet another warming winter drink, this apple shrub hot toddy is made with a homemade apple shrub base. You'll need to prep the apple shrub well in advance of the start of Hanukkah, as it needs to sit in your fridge for three to four days before it's ready to serve. To make a big batch of zero-proof hot toddies, brew a few cinnamon tea bags in a large pitcher and let your guests serve themselves.
7. Ginger Punch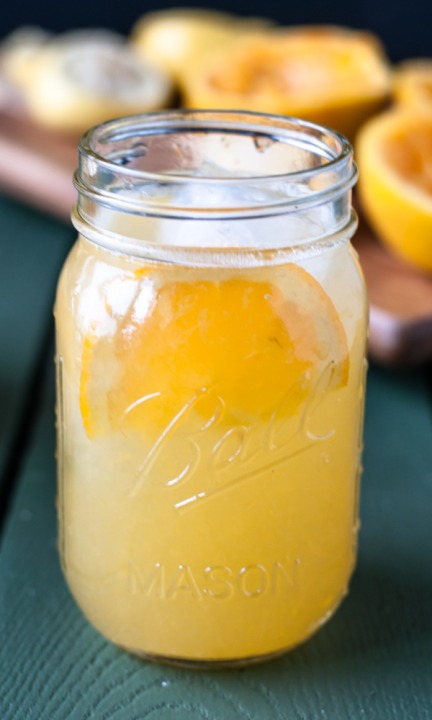 Image by Thyme and Love 
This non-alcoholic punch uses half a pound of fresh ginger, which will help soothe your stomach after seven nights of your bubbe's insanely delicious home cooking. And the acidity from the lemon and orange juice will perfectly balance out the flavors of your very last sufganiyot of the Hanukkah season.
* * *
Celebrating Hanukkah Without Drinking
It can be difficult to not drink during holidays where you may have been drinking in the past. Naming your boundaries and surrounding yourself with exciting alternate drinks and activities are great ways to stay true to your goals. Here are more tips for not drinking during heavy-drinking holidays. 
You can impress your family this year by making a batch of one of these easy non-alcoholic Hanukkah cocktails. While I'm not sure these drinks will outshine the epic spread your bubbe made this year, they're sure to be enjoyed by everyone whether they drink alcohol or not.
Disclaimer: Our articles and resources do not constitute clinical or licensed therapy or other health care services. If you need counseling or therapy services please contact a licensed provider. If this is a medical emergency, call 911.