Whether you love or loathe it, you likely feel some strong emotions surrounding the holiday season. And this year might be especially pronounced if it's your first time spending it alcohol-free.
While there may be booze-free elements you're looking forward to, such as making your signature pumpkin pie or catching up with your cousins, if alcohol has historically been a big part of your Turkey Day traditions, you may be wondering how you'll survive the first course—let alone the whole dinner and the rest of the holidays—without it. 
Considering how we bond, celebrate and connect in mainstream society is so enmeshed with drinking, it's completely normal to feel anxious about saying no to alcohol at Thanksgiving. It wasn't long ago that I too was about to embark on my first alcohol-free holiday season as an adult. I had no idea what to expect, but I knew I'd need a plan and tools in place to help me navigate it smoothly while maintaining my nondrinker status.  
Tips for An Alcohol-Free Thanksgiving
Below are a few of my top tips for confidently navigating your first alcohol-free Thanksgiving. These are proven tips that have not only gotten me through five holiday seasons without drinking, but have also helped many of my coaching clients and Counterculture Club members successfully navigate their own festivities sober for the first time. 
1. Make the decision now
A mistake I see people make when trying to remain sober is waiting until they arrive at social gatherings to decide whether or not they'll drink. I always recommend making a firm decision ahead of time because you're able to engage your prefrontal cortex—the part of the brain responsible for delayed gratification, future planning, and mindfulness. You can further commit by telling a friend who will hold you accountable, posting on social media, or just writing it down as a promise to yourself. 
2. Give yourself a time limit
Firsthand experience is one of the best ways to challenge a limiting belief. That's why I encourage my clients to experiment with remaining sober in social situations where alcohol is present, or what I call "exposure therapy." Going to a Thanksgiving dinner and not drinking is a great way to practice this exposure therapy and solidify your goals., At the same time, it's also important to remember you have to crawl before you can walk. 
It can take a lot of mental energy to navigate sobriety early on, so rather than staying all night at the boozy Friendsgiving or volunteering to drive everyone to the bars—start your exposure therapy with small doses. Give yourself a time limit or an out so that you can leave if it starts getting too rowdy or you feel uncomfortable. 
While there's absolutely no shame in making up an excuse to protect your sobriety, there are plenty of ways you can set a time limit for yourself without being dishonest. A legitimate reason to leave at a certain time will also help you hold yourself accountable.
For example, you can book an early workout class for the next morning or make after-dinner plans with an old friend in town, and give your host the heads up that you can only stay for a few hours. It's also totally OK to say you need to head out without any reason or explanation. I've done this many times and have rarely been questioned further because at the end of the day, as Courtney Barnett says, nobody really cares if you don't go to the party, so they likely care even less if you leave early.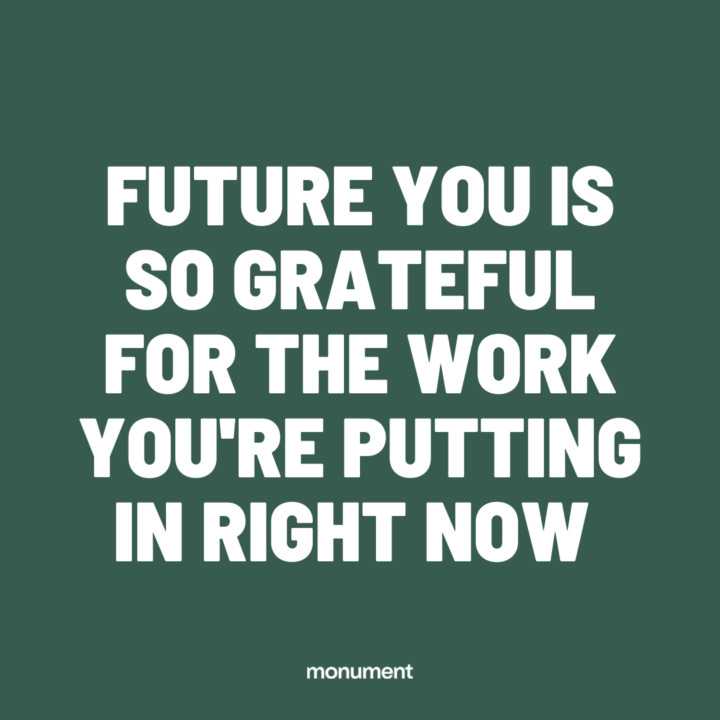 3. Phone a friend 
Chances are you're not the only one that will be choosing an alcohol-free Thanksgiving (I know I will be participating!), so remind yourself you're not alone by finding an accountability buddy and checking in with each other for support. Letting others know you'll be forgoing booze adds a layer of accountability, which will be helpful if you feel tempted to have a drink. 
4. Bring your favorite non-alcoholic beverage 
I never go to Thanksgiving dinner or any alcohol-centric event without a few cans of my favorite non-alcoholic beer, Athletic Brewing's Hazy IPA. I've found that just knowing I'll have something delicious to sip on eases my pre-party nerves. If you're not an NA beer fan, there are tons of alcohol alternatives, with more hitting the shelves everyday. If you're feeling generous or want to flex your mixology skills, you can even offer to make an NA cocktail for the gathering. You never know who else might be considering changing their relationship with alcohol and will greatly appreciate a non-alcoholic option.
5. Have a drink in your hand
Number four brings me to my next point, which is to have a drink in your hand. This will be especially helpful if you're not comfortable with telling others you're not drinking. If you have a drink, it's less likely that someone will offer you one. It will also make you feel more comfortable to be sipping on something while others are drinking. In addition to non-alcoholic beers, I also love having a seltzer with a splash of pineapple juice because it's refreshing, not too sweet and even looks like a mixed drink, which keeps the probing questions at bay. 
6. Have an escape plan 
One of the many perks of not drinking is that you have the freedom to leave whenever you're ready to go, rather than relying on someone else to bring you home, or waiting in the cold and paying an expensive holiday rate for an Uber. 
Whether it's driving yourself to and from the event or taking public transportation, make sure you have your departure plan in place so you can go whenever you're ready. Also remember, just because you're not drinking, does not mean you're obligated to be anyone's designated driver. If your friends or family need a lift, you can help them call a car or safe ride home, but you never want to put yourself in a position where you're stuck in an uncomfortable situation because you promised someone a ride home. Doing whatever you need to do to remain alcohol-free is never selfish.
7. Take care of yourself first
I really can't stress this point enough—doing whatever you need to do to stay sober at Thanksgiving and protect your mental health is not selfish. Don't worry about how turning down a drink or leaving a party early will affect others. Seriously. If you've decided not to drink this Thanksgiving, that decision comes first.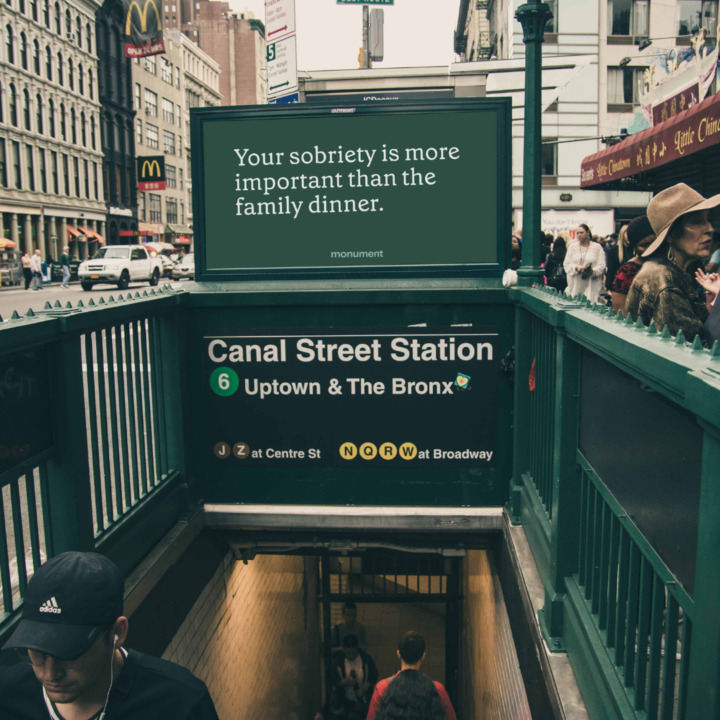 8. Remember your why
We've all heard this one, but there's a reason we continue to hear it—the tactic truly works. If that glass of boozy eggnog looks oh-so-tempting, reflect on past seasons when you imbibed too much and remember why you wanted to stop drinking, or even better, focus how great you'll feel waking up hangover-free the next morning. 
9. Let the people you're with know in advance you won't be drinking
You may be seeing friends or family who don't yet know you're not drinking. If so, help your future self out by letting these folks know in advance you won't be drinking this year. Having the conversation in advance not only gives them time to process the news, it also sets the boundary ahead of time that you don't want to be offered alcohol. And who knows, by being open and honest about your choice ahead of time, you may inspire others to do the holiday alcohol-free too.
10. Bring a friend with you who also won't be drinking
If your host is comfortable with you bringing a guest, invite a friend who's also not drinking. When I was newly alcohol-free, I was dating a fellow non-drinker who tagged along with me to countless booze-heavy events, including my first Thanksgiving, and just having him there made  it infinitely more comfortable for me to be around a lot of alcohol.
11. Prepare for triggers 
Triggers can be anything—a person, place, food, smell, etc. While you don't always know what will trigger you, especially if this is your first Thanksgiving without drinking, being prepared will help you from feeling caught off-guard. For example, if you always have an after-dinner cocktail with your sweet potato pie, consider coming up with an alcohol-free version to drink, or even try a different dessert that may not have the same associations. 
Support Group: Managing your drinking post-quarantine
Even as quarantine restrictions lessen, we're still navigating the stressors and impacts of the pandemic. Join a judgment-free discussion about how to moderate your drinking or stay sober post-quarantine.
Check out the Schedule
12. Accept that the holidays may look different now. 
Fall and the holiday season always make me feel nostalgic, and sometimes this nostalgia ushers in good memories of drinking. However, I don't let those fuzzy memories lure me in, because I know they're not the whole truth. While my Thanksgiving looks different now than it did in my drinking days, I much prefer being present and enjoying every moment as opposed to sobbing at the dinner table after one too many glasses of Sauvignon Blanc. Different, especially, in this case, is good. Different is growth. 
13. Start a daily gratitude practice 
This tip may sound silly or have you rolling your eyes, but there's plenty of scientific evidence that practicing gratitude regularly is good for our brains and overall mental health. Studies have shown that a regular gratitude practice helps us pay more attention to the abundance in our lives, which not only generates positive emotions, but also minimizes the negative ones. Gratitude is like a muscle—the more you practice, the more automatic it becomes. So if you don't have one already, start making daily gratitude lists now, and by Thanksgiving you'll be far too focused on how delicious the sweet potato casserole is to begrudge skipping the wine. 
14. Start new traditions
Visit a pumpkin patch, host a Friendsgiving without alcohol, go apple-picking, or eat tacos instead of the traditional Thanksgiving fare. New traditions give you the space to write your own story without alcohol. It is never too late to start an entirely new tradition.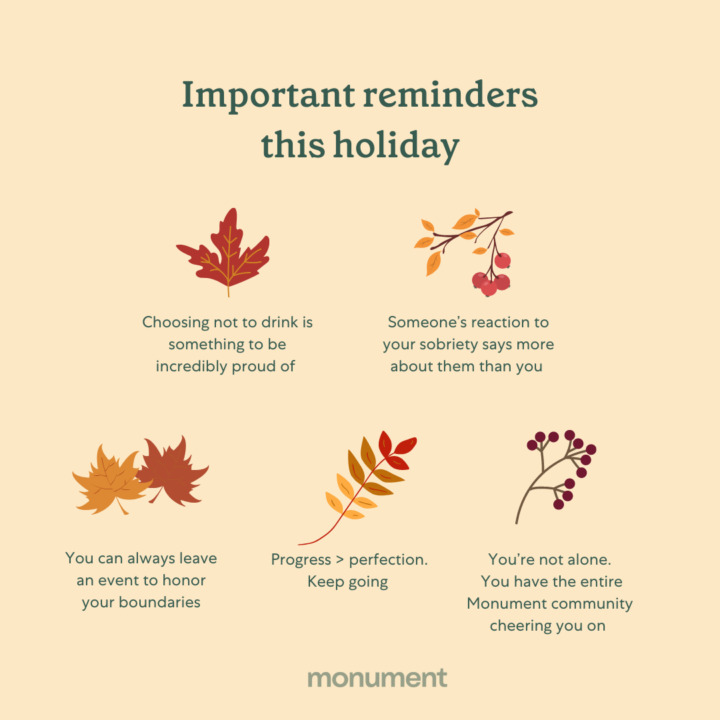 15. Treat yourself 
Plan a reward for yourself to celebrate making it through Thanksgiving without a drink. This is a great form of self-care. Treat yourself to a new holiday outfit, schedule a massage for the next day, plan a long walk with a friend or even just give yourself a full day with absolutely nothing to do. Whatever treat you pick, make it something you know you wouldn't have been able to enjoy if you drank through the holiday. This will reaffirm what you've gained by choosing not to drink. 
16. Bring your literal "toolbox"
If you're not familiar, a toolbox is a collection of soothing items we can reach for in anxiety-inducing situations. It's something I help all of my coaching clients build as well as something Monument encourages in their alcohol therapy program. Mine consists of concrete items such as a few of my favorite non-alcoholic beverages, lavender oil, hand lotion and a notebook filled with my favorite affirmations, as well as abstract tools such as breathwork or a trusted friend to reach out to in moments of stress. 
Whatever you decide to put in your toolbox, just having one on hand can help you feel more comfortable and prepared to handle any unexpected challenges. Toolboxes also give us something to reach for instead of a drink in moments of stress or discomfort. 
17. Give yourself a breather
If you start feeling overwhelmed, go for a walk and breathe in some crisp fall air or step outside and call a friend. Don't be afraid to physically remove yourself if needed. Without alcohol, you might need new ways to cope with situations that are overwhelming, and that's completely normal. Taking a deep breath, going for a walk, or even getting in a good scream in the car are all options. Again, take care of yourself first. 
18. Don't go
While exposure therapy is important for deconstructing limiting beliefs, always trust your intuition. It doesn't matter if you've just stopped drinking or have been alcohol-free for a long time, if your intuition is telling you a situation will be unsafe, you absolutely do not have to go. If your family and friends want what's best for you, they will understand, and even if they don't, your ability to feel safe and stay alcohol-free is what's most important. 
If you remember none of these tips, then remember one thing: You are not alone. 
* * *
There are so many of us deciding not to drink this Thanksgiving, and that's precisely what this is: a choice and an act of self-love. It may not feel that way if you're the only adult at the table without a glass of wine, but remember, by not drinking today, you are one giant step closer to a more beautiful life and it will only get better and easier from here. As Glennon Doyle says, you can do hard things—including this.
Disclaimer: Our articles and resources do not constitute clinical or licensed therapy or other health care services. If you need counseling or therapy services please contact a licensed provider. If this is a medical emergency, call 911.