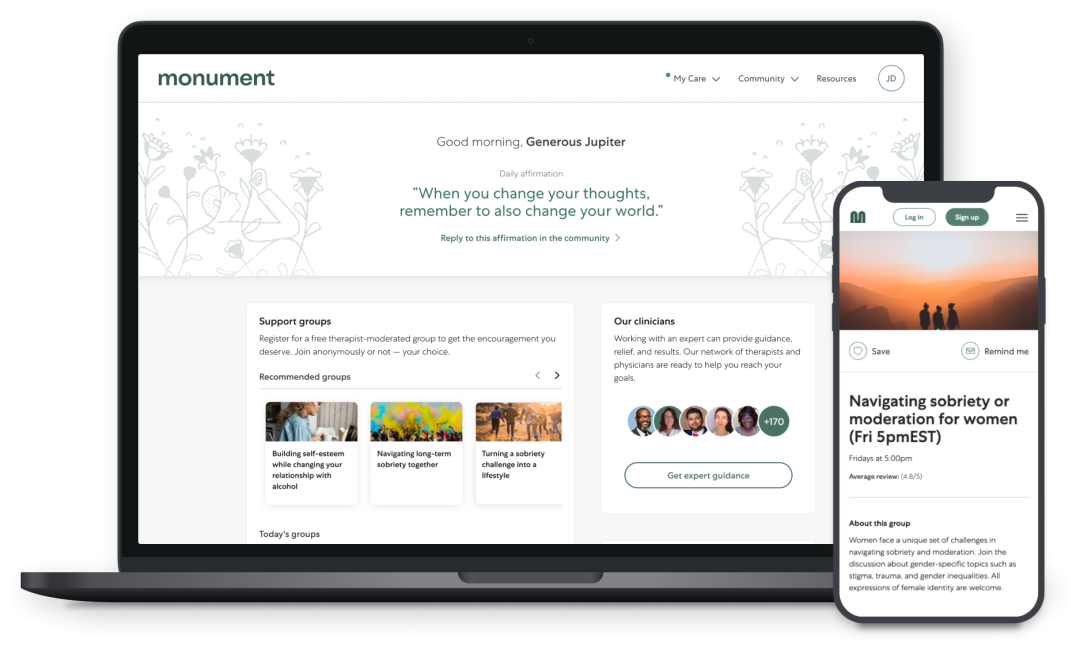 Take control of your drinking with online alcohol treatment
Meet with expert clinicians on your own time
Join moderated support groups anonymously
Access self-guided tools
Get resources for supporting others
Join Monument
Led by physicians and therapists
Our holistic treatment approach is led by experts, and based in the leading evidence about how to successfully reduce your alcohol consumption.
Affordable at every step
At Monument, top-quality care is covered by most major insurers. Support groups and other community perks are completely free with use of a referral code.
Confidential and label-free
Our HIPAA-compliant platform provides the security and privacy you deserve. Plus, our community is 100% anonymous and label-free.
See why we have 4,000+ 5-star reviews

"I used to drink everyday and last month I had 21 days not drinking! I am grateful to have help on this journey and never once felt judged."

Monument Member

★

★

★

★

★
On average
Monument members saw a 51% decrease in heavy drinking days per week by their 4th clinician appointment
Evidence-based tools for results & relief
We use clinically-backed tools that research has proven to help people reduce their alcohol consumption.
Specialized virtual therapy
Therapy helps you process uncomfortable emotions, manage thoughts about alcohol, build healthier habits, & feel better.
Medication to curb cravings
Medication can help curb cravings by reducing the pleasurable effects of and associations with alcohol.
Support from people who get it
Peer support provides encouragement and accountability. Whether you're maintaining sobriety, practicing moderation, or supporting a loved one, there's a group for you.
Trusted by over 75,000 members. As seen in the news.








Holistic care, all in one place
Community membership
Become a member to access virtual support groups, a community forum, accountability tools, and personalized care from experts who get it.
Access to moderated support groups
24/7 anonymous community forum
SMS-based drink tracker (coming soon)
Expert resources for supporting a loved one
Tools for company leaders and HR professionals
$14.99 per month
Free access with referral code K7924
+ Community membership add-on
Specialized therapy
Includes everything from community membership + virtual appointments and Chat-based messaging with your therapist.
Covered in part or in full by insurance
+ Community membership add-on
Medication-assisted treatment
Meet with a licensed physician to discuss your medication options. Your physician can prescribe medication if safe and appropriate.
Covered in part or in full by insurance
See how drinking less can give you more
You deserve the emotional and physical benefits of sobriety or moderation, and they are within reach at Monument.
Join Monument