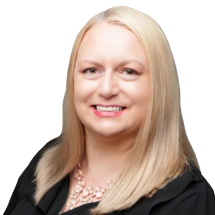 Tammy Day
LCSW, LCDC
About Tammy
Tammy believes compassion and empathy are the gateway to meaningful connection. She has worked as a licensed social work professional for over 12 years, and the focus of her career has been the treatment of substance use and mental health conditions. Tammy has a special passion for helping people change their relationship with alcohol using the Harm Reduction model and Cognitive Behavioral Therapy.
After earning her Bachelor of Social Work degree from Tarleton State in 2007, Tammy worked as the Program Director for Central Texas Council on Alcoholism and Drug Abuse. In 2014, Tammy earned her Master of Social Work degree from the University of New England, and a Master of Counseling Psychology degree from Texas A&M Central Texas.
Tammy progressed in her career as the Outpatient Program Manager for facilities that targeted substance abuse and mental health treatment. In 2019, Tammy took a position as the Substance Abuse Director for a Clinical and Forensic Mental Health private practice, where she managed outpatient treatment. Tammy has also been an adjunct professor at Texas A&M Central Texas, teaching many social work and substance abuse classes.
Education
University of New England
Texas A&M Central Texas
Specialties
Chemical Dependency
What Tammy's patients are saying


Read all reviews